The Merkur 23C, also known as the Merkur 180, is a German-made double edge safety razor that offers a comfortable and controlled shaving experience.
The 23C gains notoriety in shaving circles due to its impressive build quality, excellent performance, affordable price, and a long handle that makes it a terrific choice for those with larger hands or who prefer a longer grip.
This review will discuss the key features of the Merkur 23C and help you determine if it is the right choice for you.
Long Handle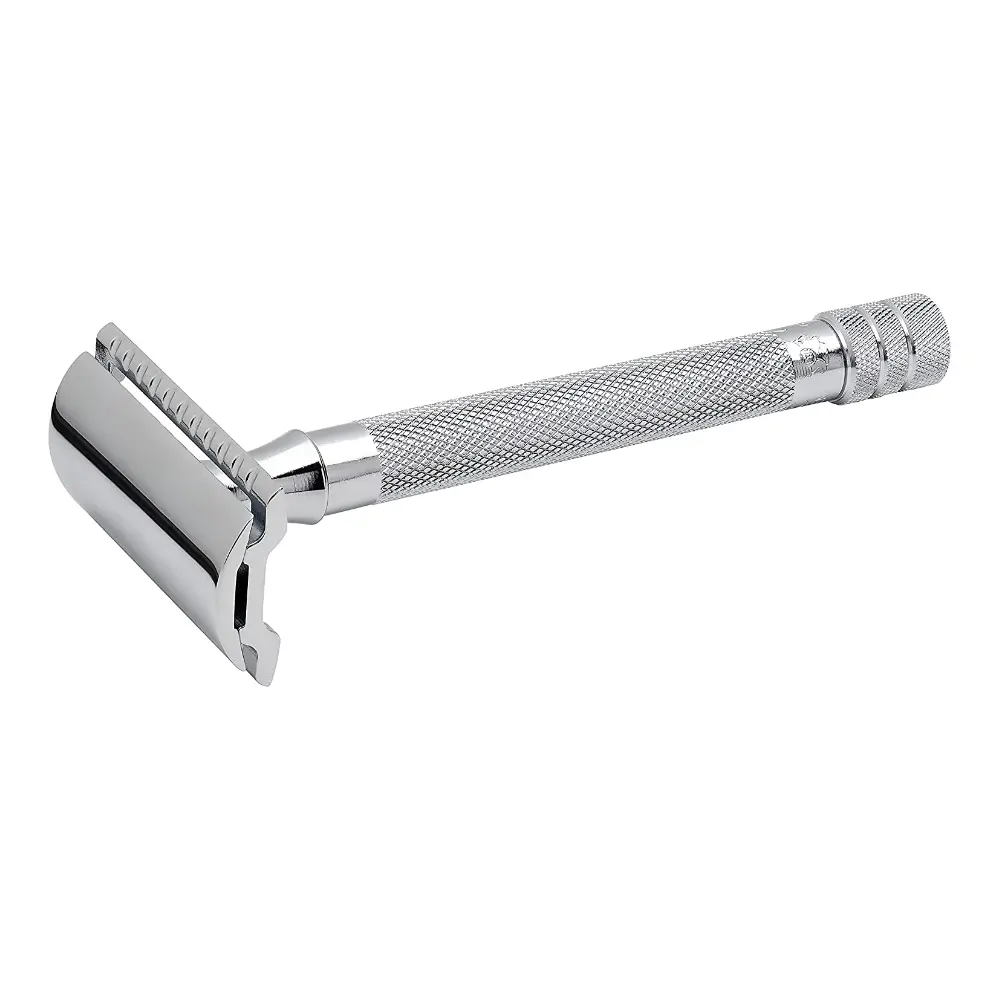 The Merkur 23C features an extra-long handle, measuring 98.4mm (3.87in), which offers users more grip and control, especially for those with bigger hands. For comparison, the highly regarded Merkur 34C, a short-handled safety razor, has a handle length of 77mm (3.03in).
The additional length provided by the 23C's handle allows for better maneuverability during shaving, helping you reach those difficult areas more easily, such as the neck and under the jawline.
As one wet shaver aptly noted:
"I have been using the Merkur 23C for about a year now, and I must say that the long handle has been a game-changer for me. I have large hands, and the added length of the handle makes it much easier for me to maintain a consistent grip." – Jamie S.
We think that this longer handle makes it easier for folks who are new to wet shaving or transitioning from cartridge razors, as it provides a familiar and comfortable grip.
Additionally, the added length makes this razor also suitable for women who want to use it to shave their legs or other body parts, as it provides better reach and control while maintaining a gentle touch on the skin.
Here's how the 23C compares to other razors in terms of length:
Weight
Weighing in at 60g (2.12oz), the Merkur 23C has a lightweight design that some users prefer. However, others may find the razor to be too light, making it less aggressive for their preferences.
Of course, if you are looking for a bit more weight in your razor to provide a more aggressive shave, the Merkur 38C, also known as the "Barber Pole" model, offers a heavier option at 111g (3.92oz) while featuring an identical head to the 23C. The increased weight can help guide the razor more effortlessly across the face, as the user won't have to apply as much pressure during the shave.
Here's how this razor compares to other safety razors:
Grip
The Merkur 23C features a diamond-knurled handle, providing a secure hold during the shaving process.
This provides plenty of friction, ensuring that the razor won't slip out of your hand if it becomes wet or soapy during the shave. Many users appreciate this level of grip, as it offers them more confidence and control while maneuvering the razor over their skin.
Mild Aggressiveness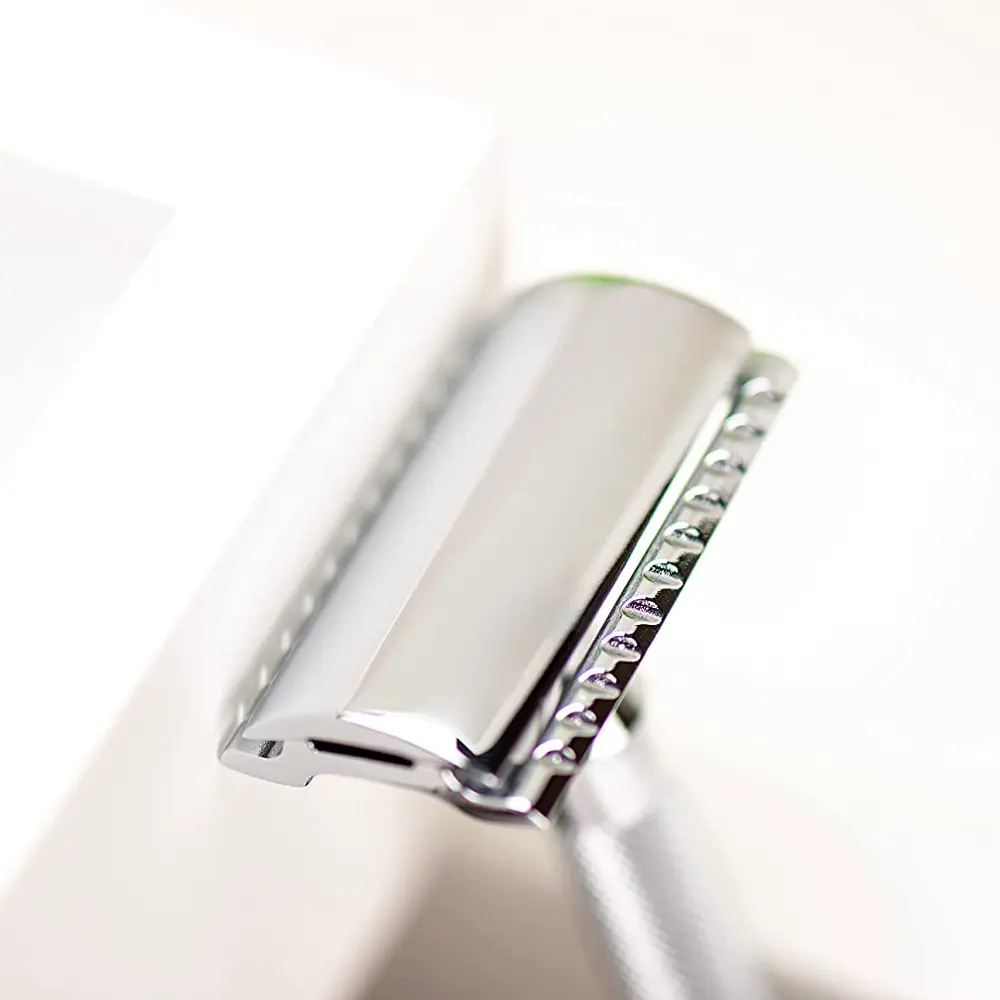 When shopping the Merkur line of safety razors, you'll notice that many models have a similar head design, which gives them a mild to moderate level of aggressiveness. The 23C is no exception, as it strikes a nice balance between efficiency and comfort during the shave.
The Merkur 23C's closed comb design and blade gap of 0.64mm, providing a particularly smooth shave ideal for sensitive skin.
This razor minimizes razor burn when used with proper blades and technique.
Even in customer reviews, many users agree that the Merkur 23C is an excellent choice for beginners who are starting with wet shaving due to its forgiving nature.
3-piece Design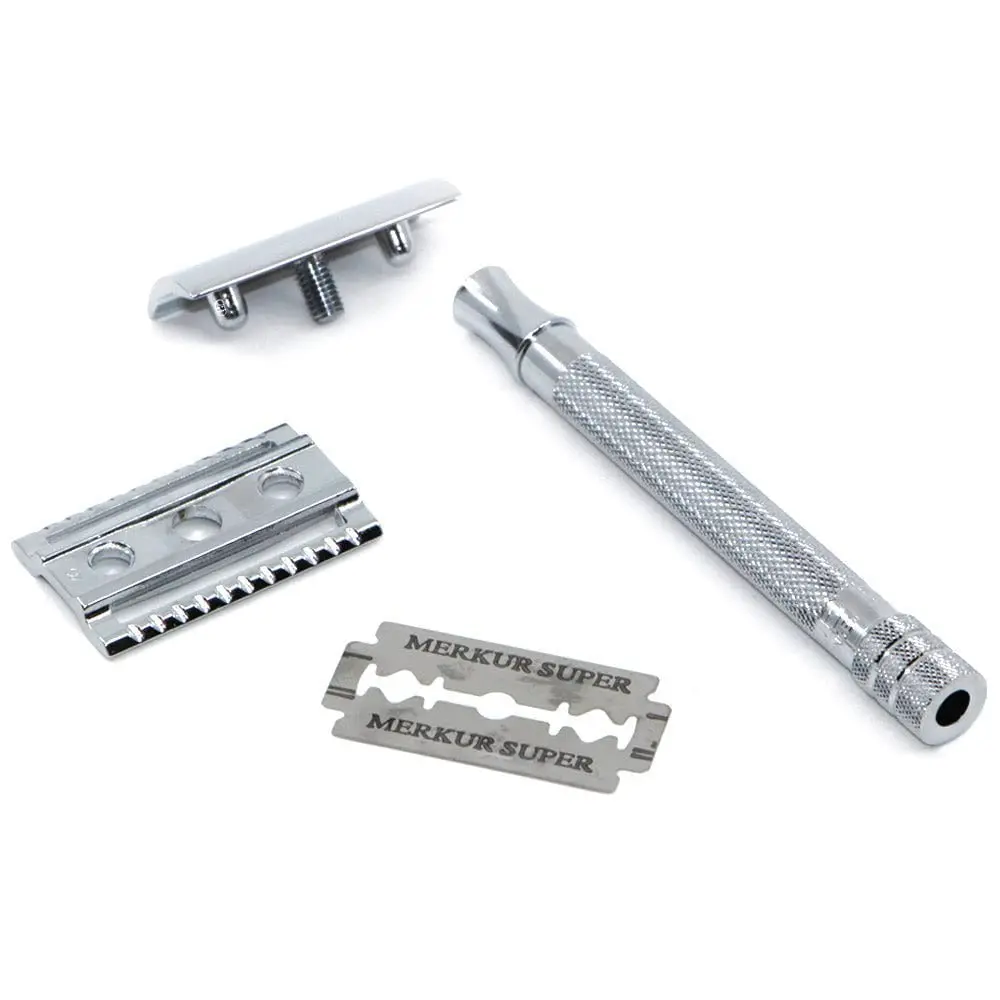 The Merkur 23C is a 3-piece razor, which means that it disassembles for easy blade replacement. With the 3-piece design, users can unscrew the handle, lift off the base plate, and change the double edge razor blades with maximum precision and safety.
As a bonus, the 3-piece design also allows for easier cleaning and maintenance of the razor. By disassembling the razor, you can reach every nook and cranny of the razor head, making it simpler to clean and remove any accumulated soap scum, hair, or other debris.
Loading Blades in the Merkur 23C
Blade replacement with the Merkur 23C is straightforward, ensuring that users can easily switch between blades when needed.
The three-piece design may take a touch longer when compared to a butterfly, two-piece, or injector-style razor, but it provides the user with more control over the blade alignment and overall assembly.
Experienced users of safety razors often recommend trying a variety of razor blades, such as Feather, Derby, and Merkur blades, to find the best fit for personal preferences and to achieve the desired level of shave aggressiveness.
Shave Performance
As expected, the Merkur 23C provides a rather comfortable shave that is suitable for all facial hair types or those with sensitive skin.
While the head on this razor is on the milder side, some users may find the shaving angle to be shallower than other razors, but this can be adjusted to personal preference.
Additionally, the larger head of the Merkur 23C may require a slight learning curve for those new to wet shaving, as it might seem difficult to maneuver around tight spots like under the nose or around the jawline. This was prevalent in my own experience and in this customer review:
"My first time using the Merkur 23C, I found it really tough to just get the right angle, especially in those hard-to-reach areas. However, after a few shaves and some practice, I was able to find the optimal angle and really started enjoying the process." – Alex T.
To tackle these hard-to-reach areas, users can experiment with different angles and blade lengths, or even try various shaving techniques such as the "J-hook" or "Gillette Slide" to improve their shaving experience.
Also worth noting is that since the long handle on this razor is well-suited for big hands, it can provide a more comfortable grip for individuals who find shorter handles to be cramped or challenging to hold.
Who Do We Recommend The Merkur 23C For?
We recommend the Merkur 23C for folks with larger hands or those new to wet shaving who are looking for a reliable and comfortable safety razor.
The mildness of the aggression paired with the beginner-friendly design makes it an excellent choice for those just starting their wet shaving journey or for individuals with sensitive skin.
Those familiar with wet shaving may find this razor somewhat disappointing if they prefer a more aggressive shave or a smaller head for easier maneuverability. Additionally, despite the German heritage, the reliance on brass or other materials for razor construction may not appeal to everyone, as some may prefer stainless steel or other high-quality material for added durability and longevity.
What Are Some Other Safety Razors To Consider?
For users who prefer a thicker and heavier handle, the Merkur 38C or Parker 99R are excellent options. Both offer a similar mild shaving experience while providing a more substantial grip and longer handle length, catering to those who find the 23C handle too lightweight or thin.
What We Like
Extra-long handle for a comfortable grip and better control
Mild aggressiveness suitable for sensitive skin
Environmentally friendly alternative to disposable razors
High-quality chrome plating for a polished finish and rust protection
What We Don't Like
Lighter weight may not appeal to all users
Handle diameter could be thicker for a more substantial grip
Included blade may be dull for some users
Bottom Line
The Merkur 23C is a reliable double edge safety razor that provides a comfortable and controlled shave, suitable for sensitive skin and beginners transitioning from disposable razors. Its long handle design, mild aggressiveness, and easy blade replacement make it an excellent option for those looking to improve their wet shaving experience. However, for those who prefer a heavier razor or have thicker facial hair growth, there are better options available on the market.
Compare the Merkur 23C to other safety razors:
| Features | | | | | | | Add Product |
| --- | --- | --- | --- | --- | --- | --- | --- |
| Name | Merkur 23C | Merkur 38C | Merkur 34C | Merkur 37C | Mühle R41 | Merkur 25C | |
| Overall Rating | | | | | | | |
| Brand | Merkur | Merkur | Merkur | Merkur | Mühle | Merkur | |
| Composition | Brass handle and die-casted zinc razor head | Brass and die-cast zinc alloy | Brass and die-cast zinc alloy | Brass and die-cast zinc alloy | Chrome-plated metal | Chrome-plated brass and zinc die-casting | |
| Grip | Knurled | Swirling Grooves | Knurled | Swirling Grooves | Fine chasing | Knurled | |
| Comb | Closed comb | Closed comb | Closed comb | Slant | Open comb | Open comb | |
| Country of Origin | Germany | Germany | Germany | Germany | Germany | Germany | |
Show More
Buy the Merkur 23C from these retailers: