While Gillette is most synonymous with expensive cartridge razors, the re-introduction of the King C. Gillette Safety Razor has allowed consumers to enjoy a more traditional and cost-effective shaving experience, harkening back to the brand's founder's original vision for a quality and durable shaving tool.
Combining the best of Gillette's heritage and 21st-century innovation, this razor offers superior shave quality, long-lasting durability, and precise accuracy. In this review, we will dive into the features and performance of this safety razor and provide tips on how to achieve the perfect shave.
Design
The King C. Gillette Safety Razor features a sleek and iconic design with a high-quality chrome-plated handle. The razor's sturdy construction ensures stability and great control during your shaving routine.
The closed comb safety bar paired with the modestly sized head provides optimal maneuverability and a comfortable shave, even in hard-to-reach areas.
Weight
At 3.68 oz (104 grams), the King C. Gillette Safety Razor boasts a weight that is effortless to manage and offers just the right balance. As for the comparison to other razors, King C. Gillette is heavier than most and is roughly equivalent to the Rockwell Razors 6C, Merkur 38C, and Parker Variant.
Here's how this razor compares to other safety razors:
When shaving with a safety razor, it's important to let the weight of the razor do the work. Due to its ideal weight, the King C. Gillette Safety Razor provides a consistent and enjoyable shaving experience without requiring the user to apply excessive pressure on the skin. This reduces the risk of nicks, cuts, and irritation, ensuring a smooth and comfortable shave.
Length
The 3.75″ (95.25mm) handle length of the King C. Gillette Safety Razor is a comfortable size for most men, providing an easy grip during the shaving process. The longer length is good for folks transitioning from a cartridge razor or those with larger hands who may appreciate the extra space for a more controlled and relaxed grip.
However, the longer frame reduces the ability for precise control in tight spaces or for detailed work, such as shaping facial hair or shaving around intricate beard designs.
Here's how the King C. Gillette compares to other razors in terms of length:
Reviewing the Included Blades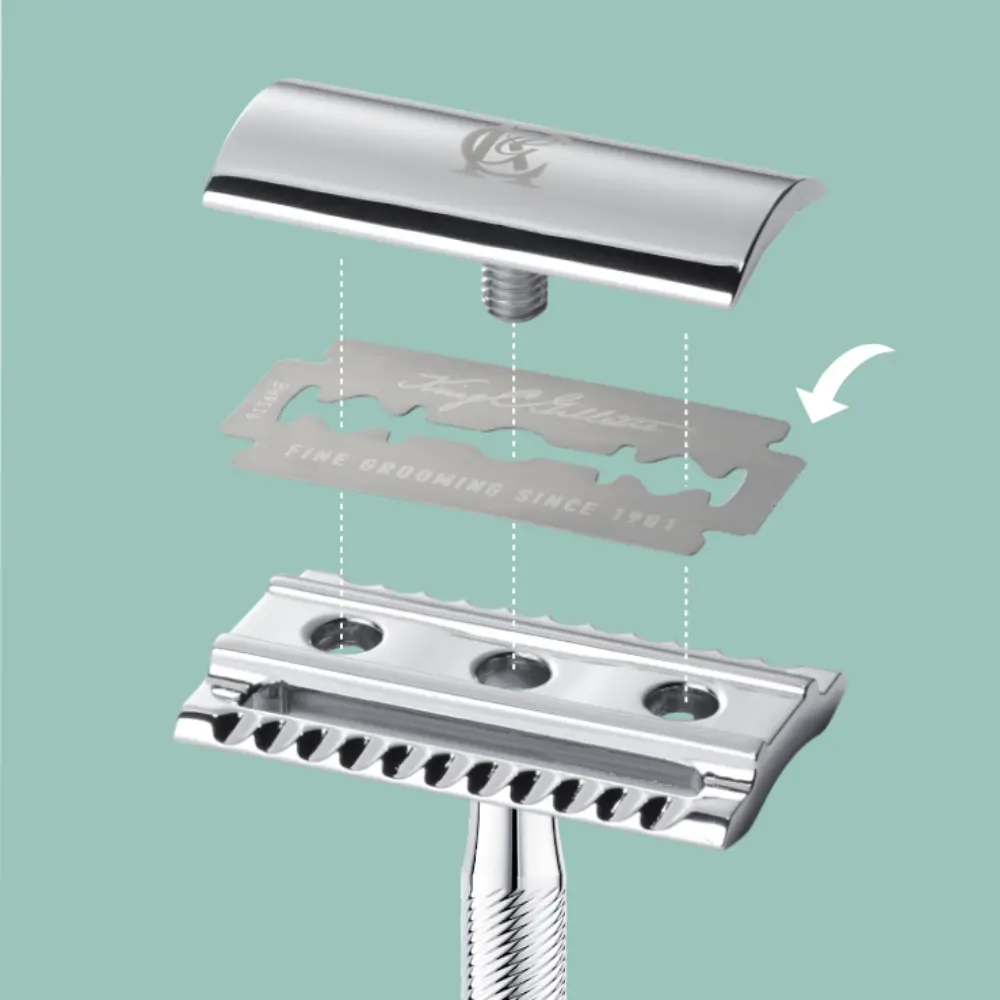 While most know Gillette for its pricey and proprietary fittings within its cartridge razors, the King C. Gillette Safety Razor is compatible with all standard double-edge safety razor blades.
The included platinum-coated stainless steel blades that accompany this safety razor are rather mild and set a low benchmark in terms of sharpness and durability. The blades used to be made in Russia, but given recent events, are likely manufactured in China.
Despite the shortcomings of the included blades, this safety razor is compatible with a wide range of double-edge razor blades from various manufacturers. This allows you to test and choose the blades that best suit your skin type, hair thickness, and personal preference. Some popular alternatives include Feather, Astra, Derby, and Personna.
Price
With an average retail price of roughly $24, the King C. Gillette Safety Razor is an affordable option for those looking to enter the world of wet shaving or for experienced wet shavers searching for a reliable and budget-friendly new addition to their shaving arsenal.
All in all, you can expect to spend around $0.05 to $0.10 per blade, depending on the brand and quantity purchased. While this may seem more expensive than disposable cartridge razors initially, the overall cost of using a safety razor over time is significantly lower due to the longer lifespan and lower cost of replacement blades.
Country of Origin
To the dismay of many, the King C. Gillette Safety Razor is manufactured in China. However, this drastically reduces the cost of production, which is reflected in the razor's affordable price tag.
Grip
The swirling grooves on the handle of this safety razor can be a bit slippery when wet. You may notice that it will be more challenging to maintain a firm grip during a shave, especially for those with larger hands or those who prefer an aggressive grip.
We advise against using this razor in the shower or near running water to minimize slipping and recommend drying your hands thoroughly before using the razor. Additionally, using a textured grip-enhancing material, such as a rubber band, may provide a more secure grip if necessary.
Shave Performance
When considering the length, weight, blade gap, and safety bar, the King C. Gillette Safety Razor provides a shaving experience that is suitable for both beginners and experienced wet shavers. The closed comb head offers a mild aggressiveness, which is perfect for those with sensitive skin or for those who are just starting to transition from disposable cartridge razors.
Men with thicker beards may find that this razor requires more passes, but the mild nature of the shave ensures minimal irritation, even for multiple passes.
In addition to the razor itself, many customers found that using a brush and quality shaving cream further enhanced their shaving experience.
"Absolutely love it! Provides a close shave without irritation and works well with sensitive skin. The handle is well made and has a better grip than other brands." – Mark S.
As predicted, some users reported issues with the razor handle being slippery when wet, which could lead to less precise handling during use.
Additionally, some customers were dissatisfied with the quality of the included blades, opting for higher-quality replacements for a more comfortable shave.
"The blades supplied with the razor weren't very good quality. I had to purchase better blades separately to get a smooth, comfortable shave. The handle was also a bit slippery when wet." – Andrew W.
Outside of our own findings, we also checked what popular forums and wet shaving communities had to say about the King C. Gillette Safety Razor. Over at Reddit's/r/wicked_edge one member chimed in and said "Excellent shave, mild but efficient. I really liked the blade as well." whereas another noted "I prefer the Heritage, which came out a few months prior to the King C. Both are relatively mild, well-made razors, but the Heritage is as efficient as anything out there."
Over on Badger & Blade one reviewer noted that the shave was excellent and similar to that of the Edwin Jagger DE89.
Ultimately, the shave performance of the King C. Gillette Safety Razor varies depending on individual preferences, skin types, and experience levels. However, overall, this razor provides a comfortable and effective shaving experience for most users.
What We Like
Affordable price compared to other safety razors
Delivers a close and comfortable shave
Good entry-level safety razor
What We Don't Like
Slippery handle when wet for some users
Included blades may not be the highest quality
Bottom Line
The King C. Gillette Safety Razor is a good safety razor for those looking to embrace traditional wet shaving with a modern twist. Despite some minor shortcomings, this budget-friendly option delivers an impressive shaving performance, making it an ideal choice for beginners and experienced wet shavers alike. With proper care and technique, this razor can provide a consistently close, comfortable, and enjoyable shaving experience.
Compare the King C. Gillette Safety Razor to other safety razors:
| Features | | | | | | | Add Product |
| --- | --- | --- | --- | --- | --- | --- | --- |
| Name | King C. Gillette Safety Razor | Merkur 38C | Merkur 34C | Merkur 37C | Mühle R41 | Merkur 25C | |
| Overall Rating | | | | | | | |
| Brand | Gillette | Merkur | Merkur | Merkur | Mühle | Merkur | |
| Composition | Chrome-plated metal | Brass and die-cast zinc alloy | Brass and die-cast zinc alloy | Brass and die-cast zinc alloy | Chrome-plated metal | Chrome-plated brass and zinc die-casting | |
| Grip | Swirling Grooves | Swirling Grooves | Knurled | Swirling Grooves | Fine chasing | Knurled | |
| Comb | Closed comb | Closed comb | Closed comb | Slant | Open comb | Open comb | |
| Country of Origin | China | Germany | Germany | Germany | Germany | Germany | |
Show More
Buy the King C. Gillette Safety Razor from these retailers: