Are you looking to invest in a safety razor that can withstand the test of time?
Then there is perhaps no better option currently available than the Feather AS-D2.
Made in Japan and highly praised for its precision craftsmanship and stylish design does the Feather AS-D2 live up to the hype?
In this comprehensive review, we'll delve into the design, performance, and user experience of this premium razor.
Design Aesthetic and Build Quality
The Feather AS-D2 safety razor showcases a simple yet attractive design aesthetic, featuring a classic three-piece razor construction.
Boasting a brushed stainless steel finish, this luxury shaving tool ensures a corrosion-resistant, skin-friendly experience. Precision-engineered, the Feather AS-D2 effectively aligns the razor blade for optimal shaving control.
Users over on the Badger & Blade forum have noted that Feather spared no expense on the material and are relying on marine grade 316L surgical stainless steel. This material is widely known for its resistance to rust, pitting, and general corrosion, ensuring the razor's durability and longevity.
Simply put, the AS-D2 will look great on any bathroom countertop or vanity, making a statement with its minimalistic design and high-quality materials. The stainless steel not only adds to the aesthetic appeal but also guarantees it'll withstand the abuse of drops, temperature changes and more.
Did You Know: Feather AS-D2 safety razors are manufactured in Seki, Japan, an area renowned for its centuries-old tradition of crafting high-quality swords and cutlery.
Razor Balance and Weight Distribution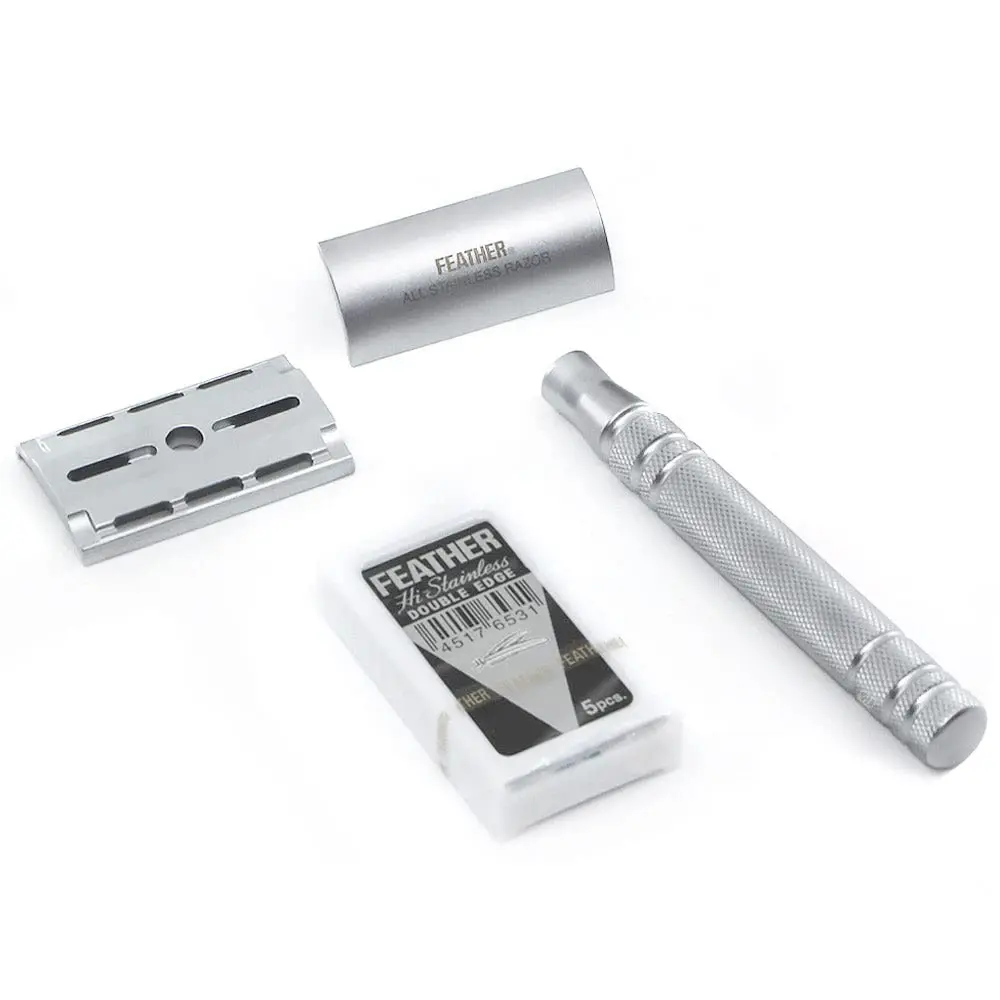 This high-quality shaving tool demonstrates exceptional balance and weight distribution, ensuring a close yet comfortable shave. The heavyweight handle perfectly complements the stainless steel head, allowing the razor to glide effortlessly over the skin. In total the AS-D2 weighs 3.2 oz.
Here's how this razor compares to other safety razors:
When using a safety razor, the balance and weight distribution are crucial factors that greatly impact the overall shaving experience.
If a razor feels too heavy or unbalanced, it can be challenging to control, leading to potential nicks and irritation. The Feather AS-D2 has clearly been designed with these considerations in mind, providing an ergonomic and user-friendly experience for a variety of users – from beginners to experienced wet shavers.
Razor Length and Handle Grip
The Feather AS-D2 razor features an ergonomic handle measuring 3.54 inches in length, which provides users with a firm, comfortable grip during their shaving routine. Thanks to the handle's fine knurling, users can maintain control even when the razor is wet.
The AS-D2 is slightly smaller than most safety razors on the market, making it ideal for those with smaller hands or those who prefer a more compact shaving tool. However, it isn't too small to compromise control or maneuverability, ensuring a smooth and precise shave for users with larger hands as well.
Here's how the AS-D2 compares to other razors in terms of length:
Analyzing the Feather AS-D2 Blade Gap
With a blade gap of 0.29 inches (0.73mm), the Feather AS-D2 offers mild aggressiveness, making it suitable for those with sensitive skin or prone to razor burn.
This refined shaving tool ensures a gentle, smooth shave while efficiently removing stubble.
Shaving Performance and User Experience
Feather AS-D2 offers a close, smooth shave with innovative and safe technology from Feather. This razor is compatible with a variety of blades, allowing users to experiment with different brands for their desired shave quality.
Thanks to the mild blade gap and smooth safety bar, this razor works well on most beard types, from thin to moderately thick.
However, those with very coarse or fast-growing facial hair might find they need more than one pass to achieve the desired level of closeness.
Customers generally seemed pretty happy with the AS-D2 with one noting the following:
"This razor gives me the best shave of my life, but more importantly, it doesn't destroy my face in the process."

Jamie T.
However, where the AS-D2 really fell short was with the handle. As Alex noted here:
"The handle is too short for me, and I always feel like I am about to drop it in the shower."

Alex H.
Feather AS-D2 is suitable for both beginners and experienced shavers, proving to be effective and gentle on the skin. However, some users may need time to adjust and find the correct shaving angle to achieve their desired results.
Alternatives
Folks looking for alternatives to the Feather AS-D2 may consider the following options, each with their unique features and benefits:
Merkur 34C: This is a popular option for many as it boasts a lower price point and comparable grip and balance to the Feather AS-D2. Its two-piece design is easy to load and clean, and it offers a mild to moderate aggression level, making it suitable for a wide range of users.
Rockwell 6S: This adjustable stainless steel razor allows users to choose from six different settings, making it perfect for customization and tailored shaving experiences. Made in the USA, it offers a smooth, comfortable shave and is built to last. The handle has a reasonably long length and textured grip, preventing accidental slips during use.
Stand and Accessories for Feather AS-D2
The Feather AS-D2 razor package includes a matching stainless steel stand for stylish storage and display. Also included are Feather Hi-Stainless Razor Blades, known for their sharpness and compatibility with various double edge razors.
Price and Value for Money – Is Feather AS-D2 Worth It?
Feather AS-D2 comes with a high price tag, making it a luxury item for the discerning user. Despite the $169 price point, many customers find the investment worthwhile due to the razor's quality, performance, and durability. This long-lasting product is designed to provide decades of precision shaving.
However, if you are testing the waters of wet shaving or are not willing to invest a significant amount in a razor, you may want to consider more affordable options in the market.
What We Like
High-quality materials and precise craftsmanship
Comfortable and efficient shave
Compatible with a variety of razor blades
Long-lasting value and durability
What We Don't Like
Short handle length for some users
High price point
The Bottom Line
The Feather AS-D2 safety razor is an excellent luxury shaving tool, particularly for those with sensitive skin or seeking a close yet gentle shave. While the price may be steep, the outstanding design, craftsmanship, and long-lasting durability make it a worthwhile investment for users who value a high-quality shaving experience.
Compare the Feather AS-D2 to other safety razors:
| Features | | | | | | | Add Product |
| --- | --- | --- | --- | --- | --- | --- | --- |
| Name | Feather AS-D2 | Merkur 38C | Merkur 34C | Merkur 37C | Mühle R41 | Merkur 25C | |
| Overall Rating | | | | | | | |
| Brand | Feather | Merkur | Merkur | Merkur | Mühle | Merkur | |
| Composition | 316 Stainless Steel | Brass and die-cast zinc alloy | Brass and die-cast zinc alloy | Brass and die-cast zinc alloy | Chrome-plated metal | Chrome-plated brass and zinc die-casting | |
| Grip | Knurled | Swirling Grooves | Knurled | Swirling Grooves | Fine chasing | Knurled | |
| Comb | Closed comb | Closed comb | Closed comb | Slant | Open comb | Open comb | |
| Country of Origin | Japan | Germany | Germany | Germany | Germany | Germany | |
Show More
Buy the Feather AS-D2 from these retailers: