Safety razors have made a significant comeback in recent years, as more and more people rediscover the benefits of traditional wet shaving. By offering a close, comfortable shave while minimizing environmental impact, safety razors are the go-to choice for many.
With various designs, materials, and levels of aggressiveness, there is a safety razor to suit everyone's preferences and needs.
This guide shares some of the best safety razors of 2023. Including the highly revered Henson AL13, Merkur 34C, Feather AS-D2, and more.
Best for Beginners: Merkur 34C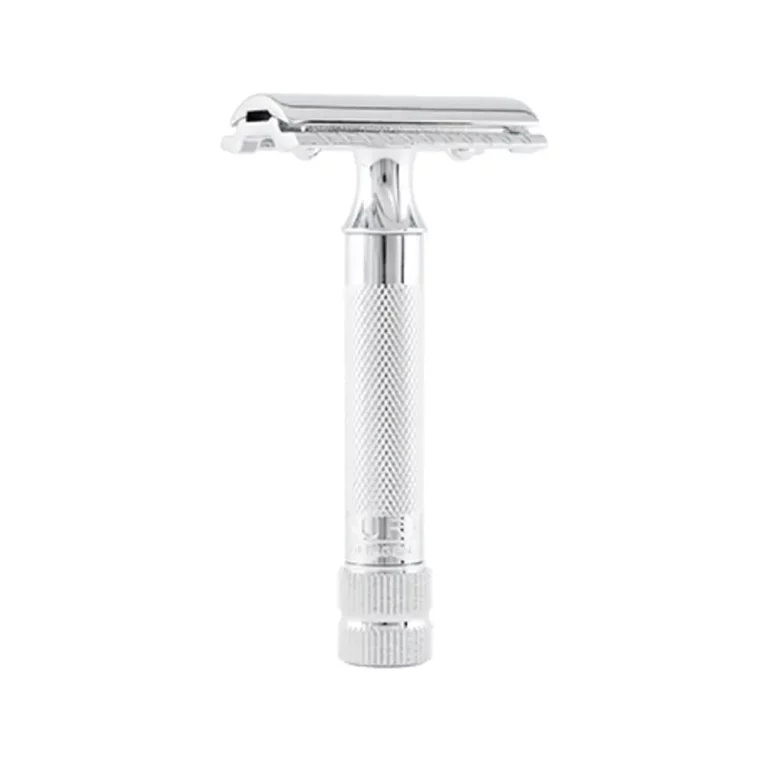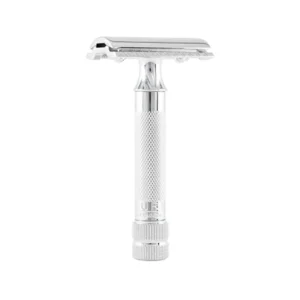 When it comes to finding the perfect safety razor for beginners, the Merkur 34C stands out for its excellent design and comfortable shave. Made in Germany by MERKUR Stahlwaren GmbH & Co., this razor combines reliability and performance thanks to its precision engineering.
The Merkur 34C features a twist-to-open design, making it easy to replace standard double-edge blades. The extra thick handle and knurled grip make it straightforward for users to maneuver the razor, ensuring a close and comfortable shave. With its all-metal construction, it is environmentally friendly, provides plenty of heft, and is built to last.
When comparing the 34C to its competitors, namely the Edwin Jagger DE89 or the Feather AS-D2, it is a touch more aggressive, yet still suitable for a wide range of facial hair types.
One potential drawback of the 34C is its short handle, especially for those folks with larger hands. However, this razor's superior grip and overall design make it an excellent choice despite this limitation.
Read the full review of the Merkur 34C.
What customers are saying: Customers praise the Merkur 34C for its ease of use, quality construction, and comfortable shave.
Extra thick handle
Reliable grip
Made in Germany
Allows for a close, comfortable shave
Short handle may not suit everyone
Made in USA: Rockwell Razors 6S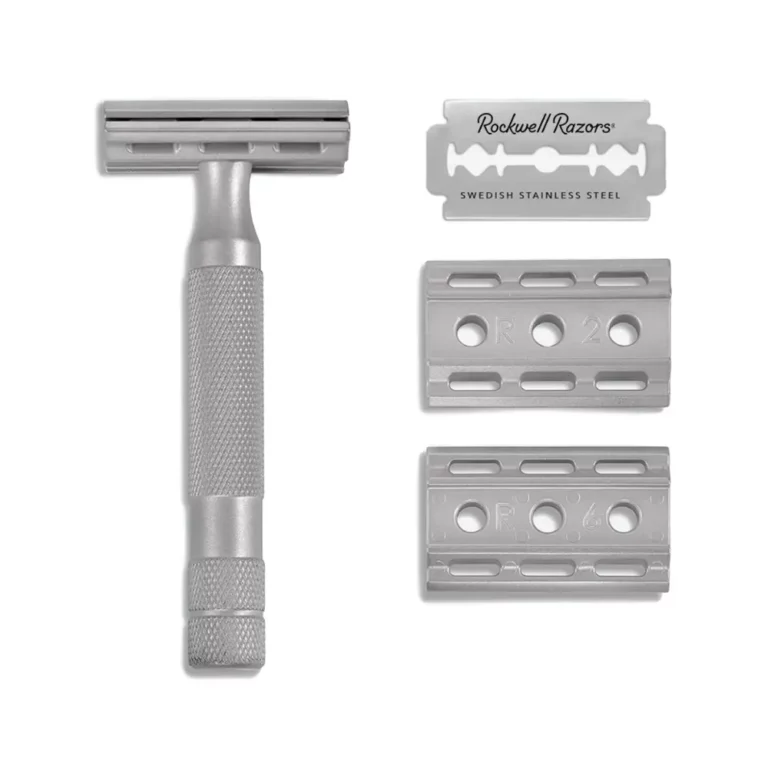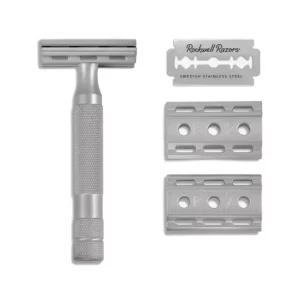 Being a long-time wet shaver, I'm always on the lookout for the best tools to achieve that perfect shave. When I discovered the Rockwell 6S, I knew I had found the ultimate addition to my grooming arsenal. This razor's innovative design and top-notch performance set it apart from the competition.
The Rockwell 6S is a single blade, double-edged safety razor made out of pure, durable stainless steel. The razor offers six adjustable shave settings, courtesy of its patented design, to accommodate all skin types and shaving preferences. The metal injection molding process and bead-blasted finish ensure that this razor is both well-built and stylish.
The pros of this razor include its excellent grip, aided by the nicely knurled handle, and the six adjustable shave settings, which cater to various preferences. Of course, the USA-made heritage is a huge plus.
The razor also comes with an elegant leather metal gift box that includes one 6S razor and five premium Swedish stainless steel razor blades. Additionally, Rockwell Razors backs its products with a lifetime warranty against manufacturing defects.
An undeniable drawback of the Rockwell 6S is its premium price ($120). However, considering the high-quality craftsmanship, customization options, and the ability to use generic double-edge razor blades, it is a worthwhile investment for those who take their grooming seriously.
What customers are saying: Most users rave about the razor's build quality, shave settings, and overall performance, mentioning that it exceeds their expectations. A few have reported rusting issues, but these appear to be isolated cases. Even folks at the Badger & Blade forum are impressed with the razor's performance.
Six adjustable shave settings for a personalized experience
Made out of pure, durable stainless steel
Comes with an elegant leather metal gift box and five razor blades
Backed by a lifetime warranty against manufacturing defects
Premium price point
Some isolated reports of rusting
Best for Eco-Friendly Shaving: Henson AL13 Safety Razor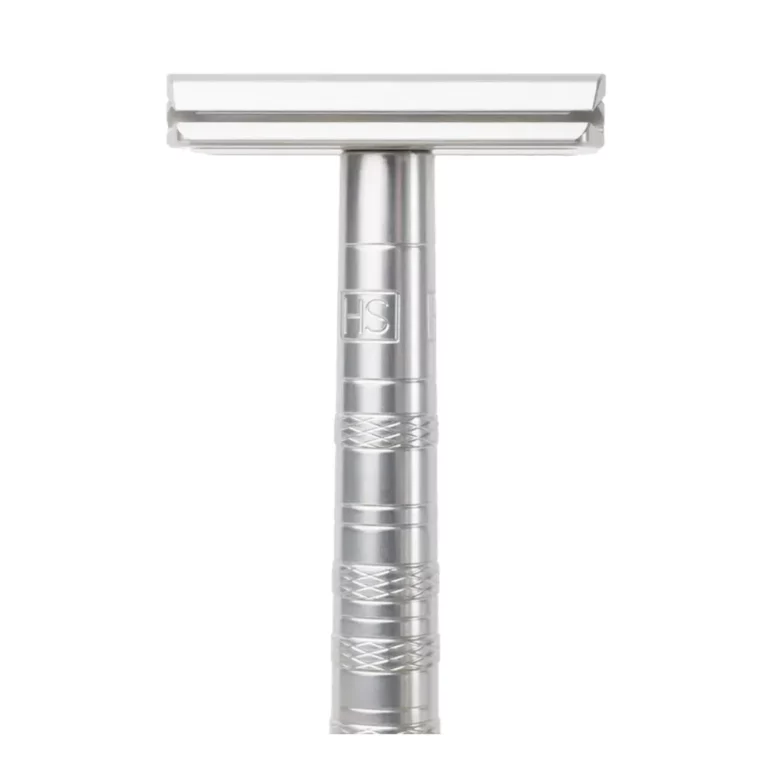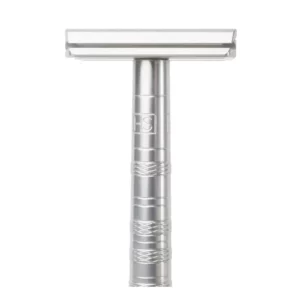 The Henson AL13 safety razor is a game changer in the world of traditional safety razors for the modern, environmentally conscious man. This next-generation safety razor delivers not only a smooth shave but does so with minimal irritation and maximum environmental consideration.
The Henson AL13 razor is constructed from aerospace-grade aluminum, making it lightweight and durable. Its unique blade support, head shape, and gap design ensure a smooth, consistent shave while eliminating the learning curve often associated with transitioning from disposable razors to safety razors.
In the Henson AL13 package, you'll find the razor itself, a 5-pack of RK Stainless double-edge razor blades, and an instruction card. The three-part design is easy to disassemble and reassemble, ensuring proper blade positioning for an optimal shaving experience.
Some drawbacks include the razor's lightweight design, which may take some time for users accustomed to heavier razors to adapt. Additionally, the angle required for a comfortable shave may require a learning curve for those transitioning from other safety razors.
Comparable products on the market include the Merkur 23C and the Parker Semi-Slant Safety Razor. However, the combination of eco-friendly materials, innovative design, and overall value sets the Henson AL13 apart from its competitors.
What customers are saying: Customers praise the Henson AL13 for its smooth, irritation-free shave and ease of use, even for those new to safety razors. However, some may find the lightweight design and needed precision to be challenging at first.
Unique design for a smooth, irritation-free shave
Easy disassembly and reassembly
Cost-effective compared to disposable razors
Lightweight design may cause a learning curve
Precise angle required for optimal shaving
Best for Larger Hands: Merkur 38C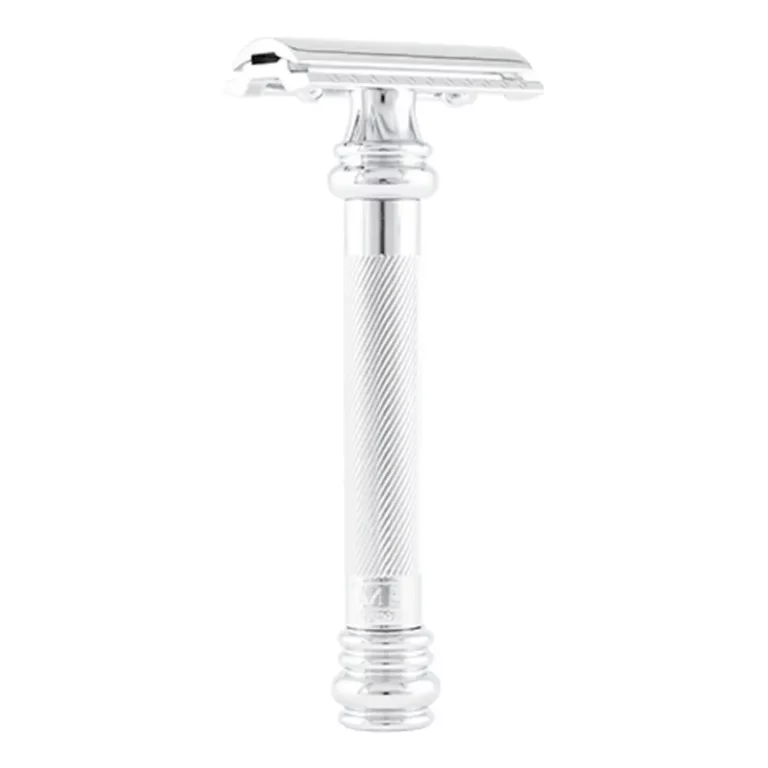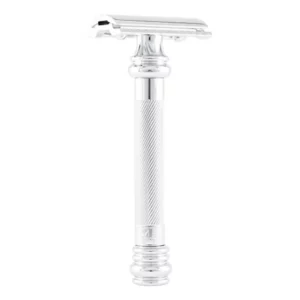 Do you have large hands? Then look no further than the Merkur 38C. At an impressive 4″ in length, the 38C is one of the longest safety razors on the market making it much easier to handle for those with larger hands.
Aside from the length, the Merkur 38C features a heavy-duty, two-piece design with a chrome-plated finish. According to the official Merkur website, the 38C is made from die-cast zinc and the surface has been electroplated. Its barber pole handle is designed for a comfortable, non-slip grip, perfect for wet shaving. The head on the 38C is the same as the Merkur 34C, allowing for a moderate to aggressive shave that is suitable for most facial hair types.
Due to the substantial weight of the 38C, you can just let it glide across your face, reducing the need for pressure.
Once mastered though, it will deliver a reliably smooth and comfortable shave. Many users claim that the 38C provides an extremely close shave in just two passes.
Read the full review of the Merkur 38C.
What customers are saying: Customers have praised the Merkur 38C for its impressive build quality, weight, and close shave. However, some users have experienced issues with the handle's grip, feeling it could be improved for better control.
Heavy-duty, high-quality design
Longer handle for better grip and control
Aggressive blade angle for a close, comfortable shave
Suitable for men with larger hands
Some users may find it too aggressive or heavy
Swirled knurling on handle not as good as a diamond pattern
Best for Thick Facial Hair or Sensitive Skin: Merkur 37C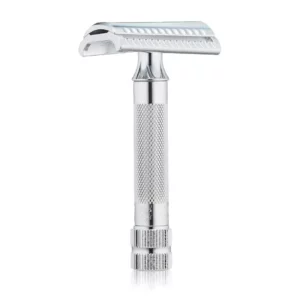 Are you tired of the irritation and subpar shaves from your current razor? Switch to the Merkur 37C – the best safety razor for sensitive skin – and experience the difference!
The Merkur 37C features a slant bar design that provides a more aggressive shave, cutting hair smoothly and efficiently, and reducing irritation on sensitive skin. Some wet shaving enthusiasts liken the cutting angle on the 37C to that of a scythe.
This chrome-plated, 2-piece double-edge razor not only looks great but also offers superior performance. The 3″ handle is designed with a knurled grip for better control, even when wet. The wider gap between the blade and bar also provides a closer, more aggressive shave, which users rave about.
Unlike its predecessors, the Merkur 37C has been designed with sensitivity and efficiency in mind. When using the Merkur 37C, less pressure is required due to its aggressive design. Experienced DE razor users may find this razor to be a game-changer, providing a close, comfortable shave with fewer passes.
What customers are saying: Reviewers praise the Merkur 37C for its close and comfortable shaves, outstanding performance, and ease of use. However, they caution that this razor may not be suitable for beginners. Users with sensitive skin, however, have reported significantly less irritation when using the Merkur 37C compared to other razors.
Slant bar design creates a unique shaving experience
Knurled grip for better control
Suitable for sensitive skin
Not recommended for beginners due to aggressive design
May require a learning curve to master the technique
Best Stainless Steel Razor: Feather AS D2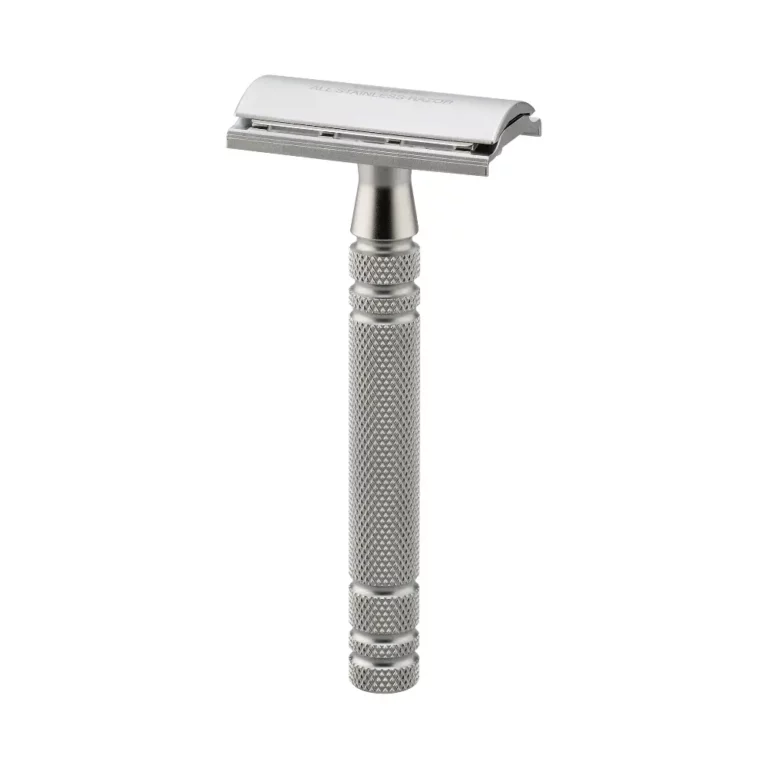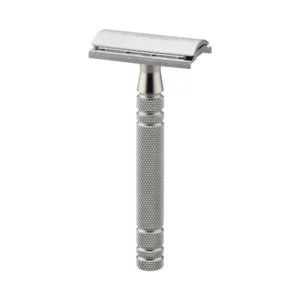 Looking to splurge on your next safety razor and want the best of the best? Then consider the luxurious and eco-friendly Feather AS D2. This Japanese-engineered razor provides a close, irritation-free shave that is perfect for all skin and hair types.
The heavyweight stainless steel handle glides smoothly over the skin, while the disposable blades resist heat and impurities for an exceptionally smooth shave. The stainless steel head and blade also mitigate the growth of bacteria and other pathogens, ensuring a clean and hygienic shaving experience.
The Feather AS D2 features a three-piece stainless steel construction for easy dismantling and cleaning. Its perfectly balanced weight guarantees optimal shaving performance that is unmatched by traditional safety razors.
Read the full review of the Feather AS-D2.
What customers are saying: Customers rave about the Feather AS D2's exceptional build quality, smooth shave, and irritation-free experience. They appreciate its mildness, making it suitable for sensitive skin, and its ability to provide a close shave without cuts or nicks.
Eco-friendly design
Compatible with all skin and hair types
Heavyweight stainless steel handle for smooth gliding
Pricey compared to other razors
Best Single Edge Razor: Supply SE Razor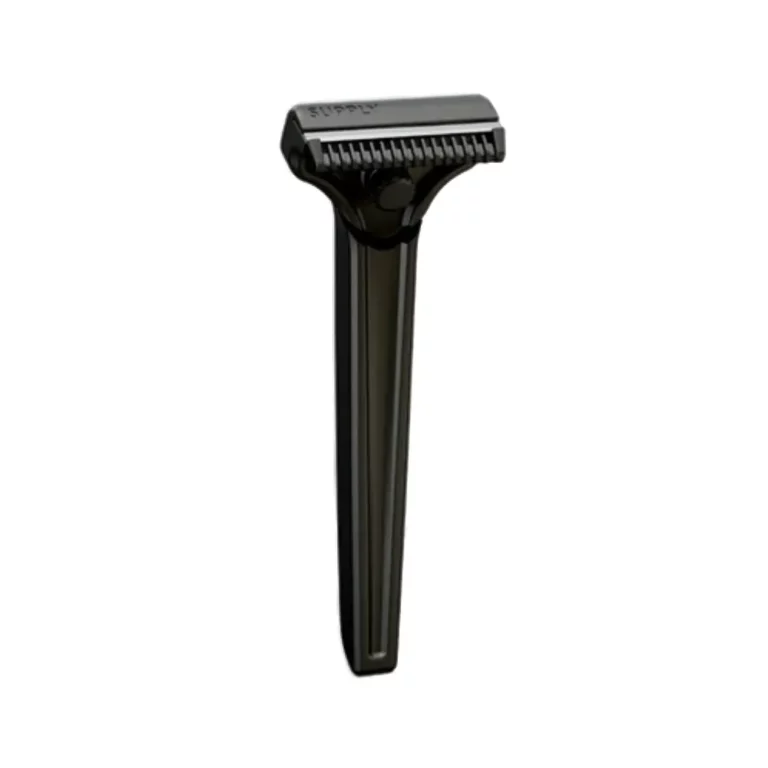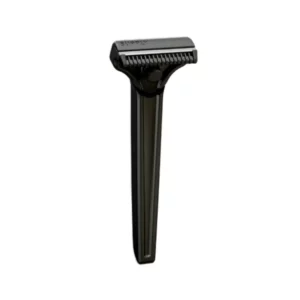 The Supply SE Razor is the answer for those seeking an efficient, user-friendly, and stylish single edge safety razor. With its innovative design and impressive performance enhancements, the Supply SE is perfect for both beginners and experienced wet shavers.
Supply's Nickstop™ Technology reduces nicks and cuts by 75%, providing a close and comfortable shave while protecting your skin from irritation. The razor is compatible with various Injector-style blades, offering users a choice in blade preference.
The Supply SE Razor has a hefty, well-balanced feel and a smooth finish, ensuring a secure grip during the shaving process. Its single edge design offers a shaving experience similar to that of a cartridge razor, while still providing the benefits of a traditional safety razor.
The Supply SE Razor's single edge design might take some getting used to for those who are more familiar with double edge safety razors. To make the switch smoother, one should focus on maintaining proper shaving technique and avoiding excessive pressure on the razor.
What customers are saying: Customers love the Supply SE Razor for its smooth, efficient performance, and often comment on the surprising lack of blade feel while shaving. They appreciate the razor's design, with some noting the single edge might take some getting used to but ultimately love the experience.
Innovative Nickstop™ Technology
User-friendly design
Compatible with various Injector-style blades
Secure grip
Single edge design might feel different than a traditional double edge safety razor
Best for Coarse Hair: Bevel Safety Razor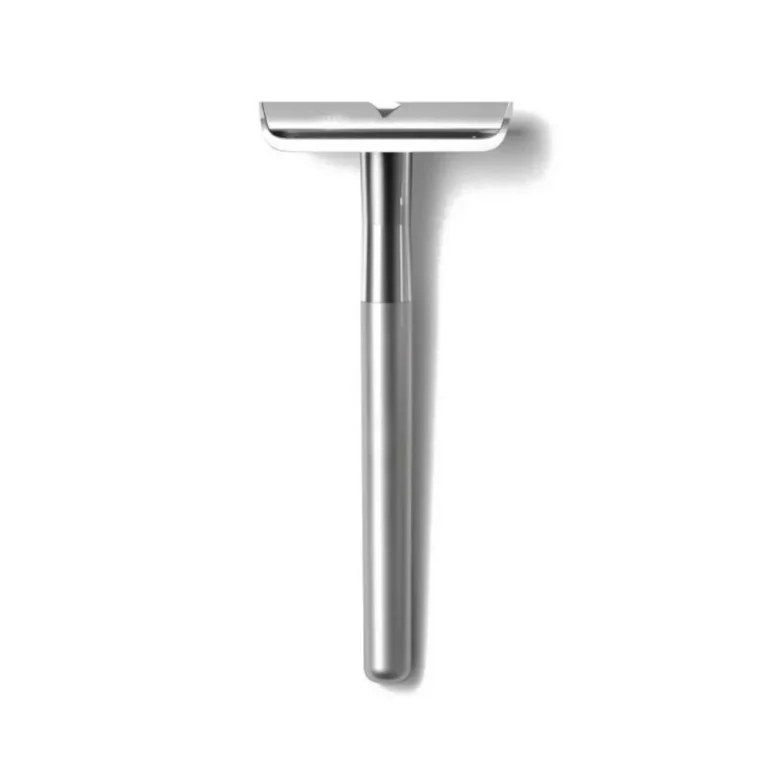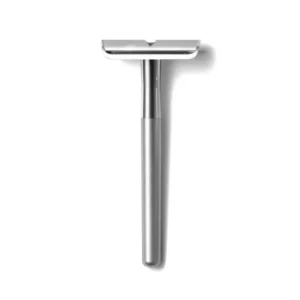 Gents say goodbye to irritating razor bumps and hello to a luxurious shaving experience with the Bevel Safety Razor. This brass-weighted, eco-friendly razor is specifically designed for coarse and curly hair, ensuring a smooth shave without any hassle.
Thanks to the moderate blade gap, the hair can enter the razor cleanly and get cut efficiently all without the risk of nicks and cuts. While the handle is somewhat thin, it provides a moderate amount of weight to ensure a comfortable grip.
Comparably, we think the Merkur 23C is a suitable alternative. However, the Bevel edges out the Merkur 23C in terms of ease of use, blade replacement, and overall performance.
What customers are saying: Customers rave about the Bevel Safety Razor's ability to provide a smooth, irritation-free shave for those with coarse and curly hair. Some have mentioned that the razor may require a learning curve, especially when it comes to finding the proper angle. However, once mastered, users report excellent results and reduced razor bumps.
Designed for coarse hair and preventing razor bumps
High-quality brass weighted handle
Smooth glide for a close shave
Compatible with double-edge razor blades
Some users may find the handle slippery when wet
May require a learning curve for first-time safety razor users
Best Value Safety Razor: King C. Gillette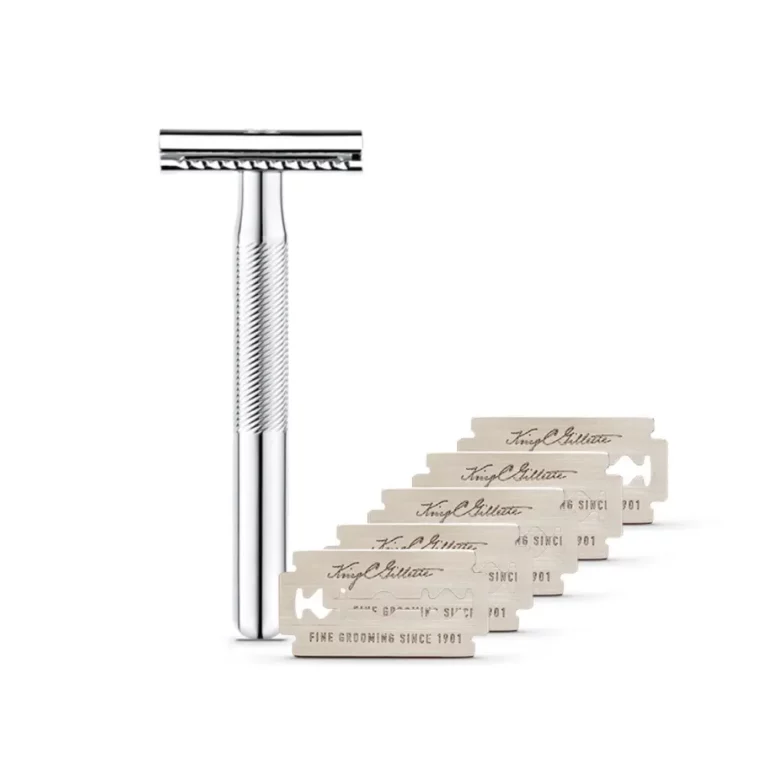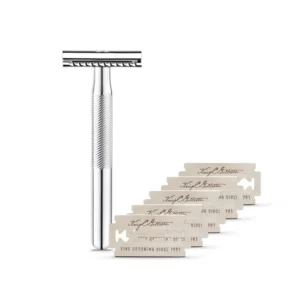 What better way to get into traditional wet shaving than by going with the brand that started it all?
Originally submitting the patent for the safety razor in 1901, King C. Gillette has been a staple in the wet shaving community for over a century. With the re-introduction of the King C. Gillette Safety Razor, the brand has once again proven its commitment to providing high-quality, affordable products for wet shavers of all experience levels.
The King C. Gillette Safety Razor is an exceptional option for those looking to get into traditional wet shaving without breaking the bank. With a price of $35, this safety razor offers outstanding quality and effectiveness for its cost.
The first thing that stands out about the King C. Gillette Safety Razor is its design, which combines a sense of tradition and modernity. It features stainless steel construction and an attractive, chrome-plated handle, ensuring durability and longevity. The handle is on the heavier side, providing a comfortable grip and excellent control during the shave. The razor also has a closed comb head, which provides a mild yet effective shave, making it suitable for both beginners and experienced shavers.
Read the full review of the King C Gillette Safety Razor.
What customers are saying: Users appreciate the razor's ability to give a smooth, comfortable shave with minimal irritation. The King C. Gillette blades are specifically praised for their mildness and effectiveness in cutting coarse facial hair. However, some users found the handle's knurling to be less grippy compared to other razors.
Affordable price
Stainless steel construction
Attractive, sturdy design
Mild to moderate shaving experience, suitable for beginners
Comes with high-quality, platinum-coated double edge blades
Knurling on the handle may be less grippy for some users
May not be aggressive enough for experienced wet shavers
Best for Heavyweight Design: Parker 99R Safety Razor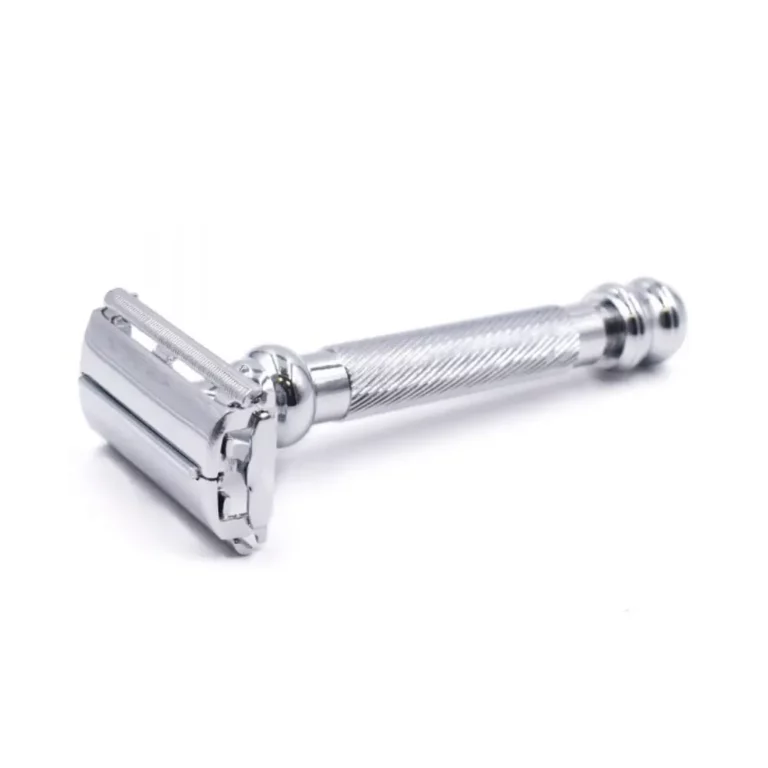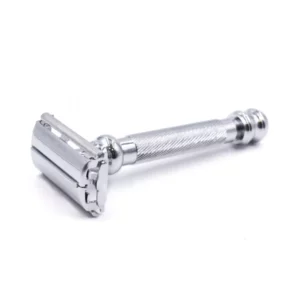 As an aficionado of wet shaving, I have tried many products in my pursuit of a close and comfortable shave. After much trial and error, I was introduced to the Parker 99R Safety Razor, and since then, it has become one of my top choices for achieving the perfect shave.
With its heavyweight design complemented by a long and beautifully knurled 4-inch handle, the Parker 99R certainly makes a mark with its high-quality construction. The twist-to-open butterfly opening mechanism is easy to use and provides quick and convenient replacement of the blades. The weight of the razor ensures a closer and smoother shave without the need for excessive pressure, thus reducing the risk of ingrown hairs and irritation.
In addition to the Parker 99R's design, the performance of this razor is simply impeccable. Even though it leans toward an aggressive side, the precision of its cutting ability ensures a close and comfortable shave every time. However, beginners should be cautious while using it due to its aggressive nature and heavier weight.
What customers are saying: Many customers have appreciated the Parker 99R for its superior build quality, heavyweight design, and smooth shaving experience. They also commend its easy blade-changing system and ergonomic handle. However, some users mention the razor might be too aggressive for those relatively new to wet shaving.
Heavyweight design for a smoother shaving experience
Easy twist-to-open butterfly mechanism for blade replacement
Beautifully knurled and long handle for superior grip and control
Durable and high-quality construction
May be too aggressive for beginners
Best Adjustable Safety Razor: Merkur Futur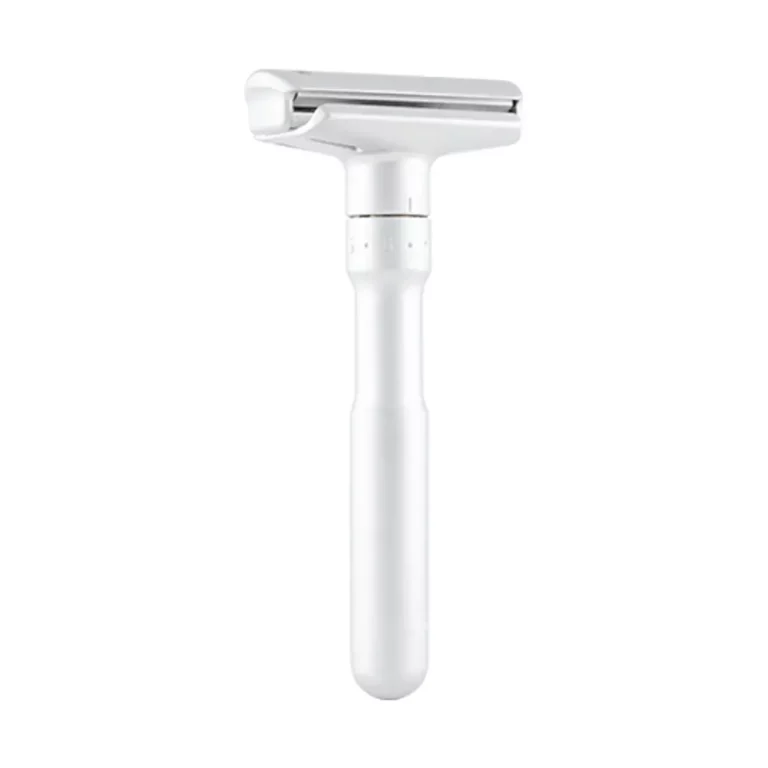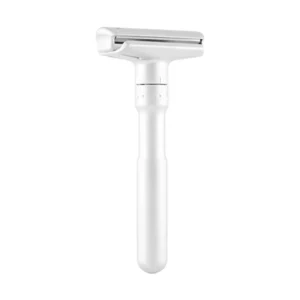 The Merkur Futur brushed chrome safety razor is a well-designed, high-quality razor that caters to experienced wet shavers who appreciate the ability to customize their shave. Crafted for durability and longevity, this razor is an investment in grooming excellence.
The Futur stands out for its adjustability, making it perfect for users who want to experiment with getting the closest possible shave. With an adjustable setting range from 1 to 6, even the lowest setting offers a fairly aggressive shave. It's important to note that this razor may not be suitable for beginners, as it can be challenging to handle due to its aggressive nature and heavier weight.
One of the main considerations when using the Merkur Futur is selecting the right razor blade for your skin. For some users, using a very sharp blade may result in irritation, so switching to a milder blade, such as a Derby Premium, can provide a smoother shaving experience. Experimenting with different settings and blade combinations can help you find the perfect balance for your skin.
What customers are saying: Many users praise the Merkur Futur for its high-quality construction and design, adjustability, and performance. However, some users warn that it's not ideal for those with sensitive skin or inexperienced shavers, as the razor is aggressive even on the lowest setting.
Adjustable aggressiveness levels to suit individual preferences
High-quality construction and stylish design
Durable and built to last
Not suitable for beginners or those with sensitive skin
Some users find it difficult to clean during shaving
Heftier weight can make it challenging to control
Best Open Comb Safety Razor: Muhle R41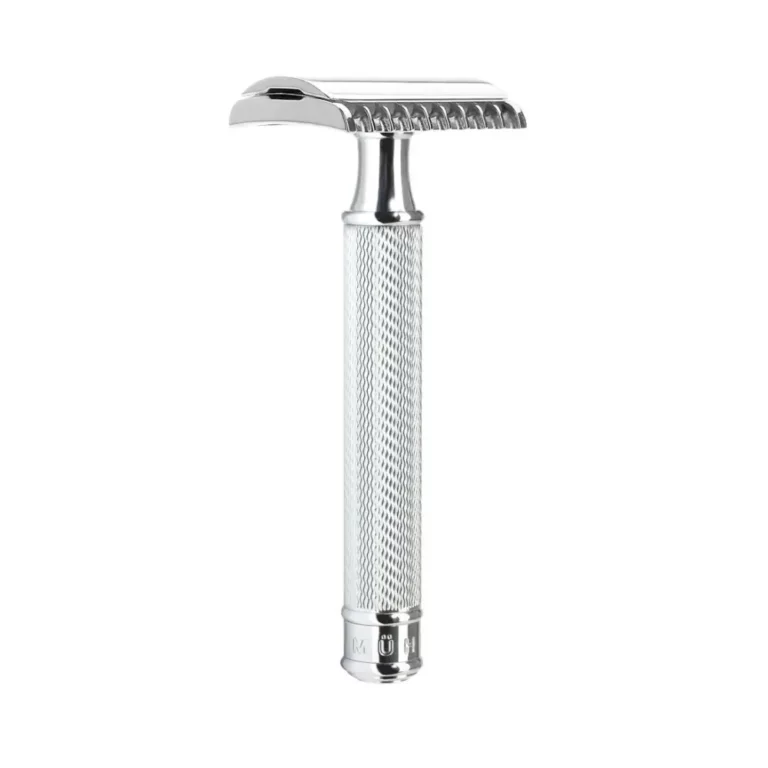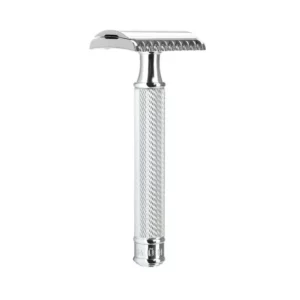 The Muhle R41 is a beautifully crafted and well-designed razor that offers a close, smooth, and efficient shave. This razor, known as "The Beast" among shaving enthusiasts, is not for beginners, but if you have experience with double edge razors, you'll be able to harness the power of the R41 to get an unparalleled shaving experience.
The open tooth comb design channels beard and hair effectively towards the blade, allowing for a closer shave than most safety razors can achieve. The modern handle options include classic chrome, rose-gold metal, faux tortoiseshell, and black chrome. To achieve the cleanest shave, it is recommended to keep the skin taut and let the blade do the work without applying any pressure.
Despite the aggressive reputation of the Muhle R41, customers report that with a light grip, it can be extremely gentle and efficient. The head is easy to maneuver, and the razor provides an excellent shave with minimal irritation, particularly for those with thick, coarse facial hair.
What customers are saying: Customers who have used the Muhle R41 praise its close, smooth shave, calling it one of the best razors they've ever used. Some warn that beginners should steer clear, as it may be too aggressive for those new to double edge razors, but if you have some experience, it'll be a fantastic addition to your shaving arsenal.
Close, smooth shave that rivals a straight-edge blade
Efficient, reducing the number of passes needed, and minimizing irritation
Beautiful design and choice of handle styles
Not for beginners, due to its aggressive nature
Handle may be slippery when wet, requiring a confident and steady grip
Before You Buy: Consider the Following Factors
Before making a decision on which safety razor to purchase, it's essential to consider several factors that will impact your shaving experience. By understanding your preferences and needs, you can make an informed choice and find the perfect razor for your grooming routine.
1. Razor Aggressiveness
Safety razors vary in aggressiveness, which refers to the amount of blade exposure and subsequent cutting ability. This factor is crucial to consider, as it impacts the closeness of the shave and the level of comfort during the process.
If you have sensitive skin or are a beginner, it's best to start with a less aggressive razor, such as the Merkur 34C or the Feather AS D2. On the other hand, experienced shavers or those with thick, coarse facial hair may prefer a more aggressive razor like the Muhle R41 or the Parker 99R. You may also want to explore the differences between open-comb razors and safety razors with safety bars that offer more protection.
2. Handle Length and Grip
The length and grip of the razor's handle play a significant role in the ease of use and overall shaving experience. Razors with longer handles, such as the Merkur 38C or the Parker 99R, are better suited for those with larger hands, while shorter handles like the Merkur 34C may be more comfortable for users with smaller hands. There is no exact science to choosing the right handle length. Don't be afraid to take advantage of the return policy if you aren't happy with the length of the handle.
3. Blade Replacement and Compatibility
Safety razors require regular blade replacement, so it's important to consider the ease of this process and the compatibility of the razor with various blades on the market. Some razors, like butterfly safety razors, feature a twist-to-open mechanism, such as the Parker 99R or butterfly razors, which makes blade replacement quick and convenient. Others, like the Feather AS D2, require a three-piece disassembly for blade replacement.
While this isn't a terribly lengthy task, it may be more time-consuming than you'd like.
4. Materials and Durability
High-quality materials and durability are essential factors to consider when investing in a safety razor. Stainless steel bodies in the Rockwell Razors 6S or Feather AS D2 will last a lifetime, whereas chrome-plated razors, such as the Merkur 34C or the Parker 99R, are prone to rust and corrosion if the chrome ever cracks.
5. Price and Value
Lastly, consider the price and value offered by each safety razor. While some razors may be more expensive, such as the Feather AS D2, their high-quality materials, and performance may justify the investment. On the other hand, more affordable options like the King C. Gillette Safety Razor or Merkur 34C can be good entry-level razors for beginners.
Review Limitations
While we have tried our best in reviewing safety razors in an unbiased matter, there are several variables that may impact the quality of the shave including the shaving cream, facial hair type, and more. Therefore, when rating these razors, it is important to note that experiences may differ between individuals. In addition, other factors such as pricing and availability of replacement parts may vary from region to region.
To try and limit biases, we took several quantitative and qualitative factors and then distilled them down into one overall rating for each razor.
Safety Razor Comparison
Here is a table that compares all the key features between each of the safety razors we reviewed:
| Safety Razor | Weight (oz) | Weight (g) | Length (in) | Length (cm) | Aggression | Composition | Grip | Comb | Price | Overall Rating |
| --- | --- | --- | --- | --- | --- | --- | --- | --- | --- | --- |
| Muhle R41 | 3.17 | 90 | 4.21 | 10.7 | Extremely Aggressive | Brass | Knurled | Open | $56 | 9.0/10 |
| Henson AL13 | 1.3 | 38 | 3.75 | 9.5 | Mild-medium | Aerospace Grade Aluminum | Grooved | Closed | $69.99 | 9.6/10 |
| Supply SE Razor | 3.17 | 90 | 4.33 | 11 | Mild | Alloy | Smooth with Optional Silicon Grip | Safety Bar with Fins | $59 | 9.3/10 |
| Bevel Safety Razor | 3.13 | 88.65 | 4.26 | 10.82 | Mild | Brass | Textured | Closed | $44.90 | 9.2/10 |
| King C. Gillette Safety Razor | 3.62 | 102.6 | 3.75 | 9.53 | Mild | Stainless Steel | Barber-Pole Knurling | Closed | $29.99 | 9.2/10 |
| Parker 99R | 3.4 | 96.39 | 4.25 | 10.8 | Aggressive | Brass | Barber Pole Grooves | Closed | $31.95 | 9.2/10 |
| Merkur Razor Adjustable Futur | 4.4 | 125 | 4.33 | 11 | Adjustable (1-6) | Chrome | Smooth | Closed | $85.56 | 9.1/10 |
| Rockwell 6S | 4.23 | 120 | 3.86 | 9.8 | Adjustable (1-6) | Stainless Steel | Knurled | Closed | $119.90 | 9.6/10 |
| Merkur Mk34c Double Edge Razor | 2.7 | 76 | 3.25 | 8.25 | Moderate | Brass and Zinc | Diamond Knurled | Closed | $53.01 | 9.7/10 |
| Merkur 38c | 3.84 | 109 | 4 | 10.16 | Mild-Medium | Brass | Barber Pole Knurling | Closed | $61.50 | 9.5/10 |
| Merkur Slant Bar Double Edge Safety Razor | 2.7 | 76 | 3.3 | 8.38 | Medium | Brass and Zinc | Cross-sectional knurling with knob | Closed | $49.67 | 9.5/10 |
| Feather AS-D2 | 3.17 | 90 | 3.9 | 9.9 | Mild | 316L Stainless Steel | Deeply Knurled | Closed | $175 | 9.4/10 |
Essential Wet Shaving Accessories
In addition to finding the perfect safety razor, consider investing in some essential wet shaving accessories to maximize your shaving experience. These can include shave soap, shaving brushes, and aftershave balms.
1. Shave Soap
To achieve a smooth and irritation-free shave, it's essential to use a good-quality shave soap that can provide a rich, slick lather. Shave soaps will help to soften your facial hair and provide a protective barrier between your skin and the razor blade. Many experienced wet shavers prefer using traditional shave soap instead of canned shaving creams, as it provides a superior lather and a more luxurious experience.
2. Shaving Brushes
A good shaving brush is vital for creating a thick, dense lather, lifting the facial hair off the skin, and allowing for a closer shave. Shaving brushes come in various types, including boar hair, badger hair, synthetic fibers, and horsehair. The choice between them often comes down to personal preference, with factors such as softness, water retention, and price being key considerations.
3. Aftershave Balms
Unlike traditional aftershave splashes that contain alcohol, aftershave balms help prevent irritation by moisturizing and soothing the skin. Some balms even contain natural ingredients like aloe vera, witch hazel, and chamomile extract to help calm the skin and reduce redness.
Tips for Improving Your Shaving Routine
Maintaining a good shaving routine with your safety razor is essential for maximizing your shave's quality and minimizing skin irritation. Some tips for improving your shaving routine include:
1. Understand and Adjust the Blade Angle
When using a safety razor, the blade angle is crucial for a comfortable and smooth shave. Usually, the ideal angle is about 30 degrees, but this can differ depending on the specific safety razor or personal preference.
2. Practice Proper Shaving Technique
Using the correct shaving technique is essential for a comfortable and effective shave. Doing so involves applying minimal pressure, holding the razor lightly, and using short, overlapping strokes. Always shave with the grain to reduce the risk of irritation and ingrown hairs.
3. Pre-Shave Preparation
Proper pre-shave preparation can significantly impact the quality of your shave. A warm shower is optimial, however a hot towel can work if time is limited. This will help to soften the hairs, open the pores, and prepare the skin for shaving.
4. Experiment with Different Blades and Razors
Different safety razor models and razor blades can yield different results. Take the time to experiment and find the perfect combination that works best for your skin and hair type. This may mean trying different brands of blades or even trying different safety razors.
5. Regularly Replace Razor Blades
Using a sharp, clean razor blade is crucial for reducing skin irritation and achieving the closest possible shave. Regularly switch out your DE blades, typically every 3-5 shaving sessions or when you start to feel the blade tugging on your facial hair.