Hailing from Sheffield, England, a city renowned for its rich history in steel production, Edwin Jagger has been delivering top-notch shaving products since 1988.
The Edwin Jagger DE89 safety razor is one of their flagship products – and an entry point for a lot of folks into the world of wet shaving.
This double edge safety razor is widely appreciated for its performance, durability, and elegant design.
In this review, we'll look at its strengths and drawbacks, compare it to other popular safety razors, and discuss why it remains a favorite choice among wet shaving enthusiasts.
The Classic Design and Quality Construction
The Edwin Jagger DE89 safety razor is an elegant, English-made razor that combines a stylish handle with a chrome-plated razor head. Its solid brass construction ensures long-lasting durability and corrosion resistance.
The DE89 is available in various handle designs, such as a polished chrome finish with lined ridges, faux ivory, and faux ebony, catering to a wide range of personal preferences and enhancing its aesthetic appeal.
While aesthetics may be pleasing to the eye, it's important to note (which we'll cover in just a minute), is that the handle design and texture play a crucial role in providing a secure grip during wet shaving, ensuring safe and comfortable use.
Across all their razors, Edwin Jagger's commitment to producing high-quality shaving tools is demonstrated through their attention to detail, rigorous quality control, and use of above-average materials.
Razor Balance, Weight Distribution, and Shaving Comfort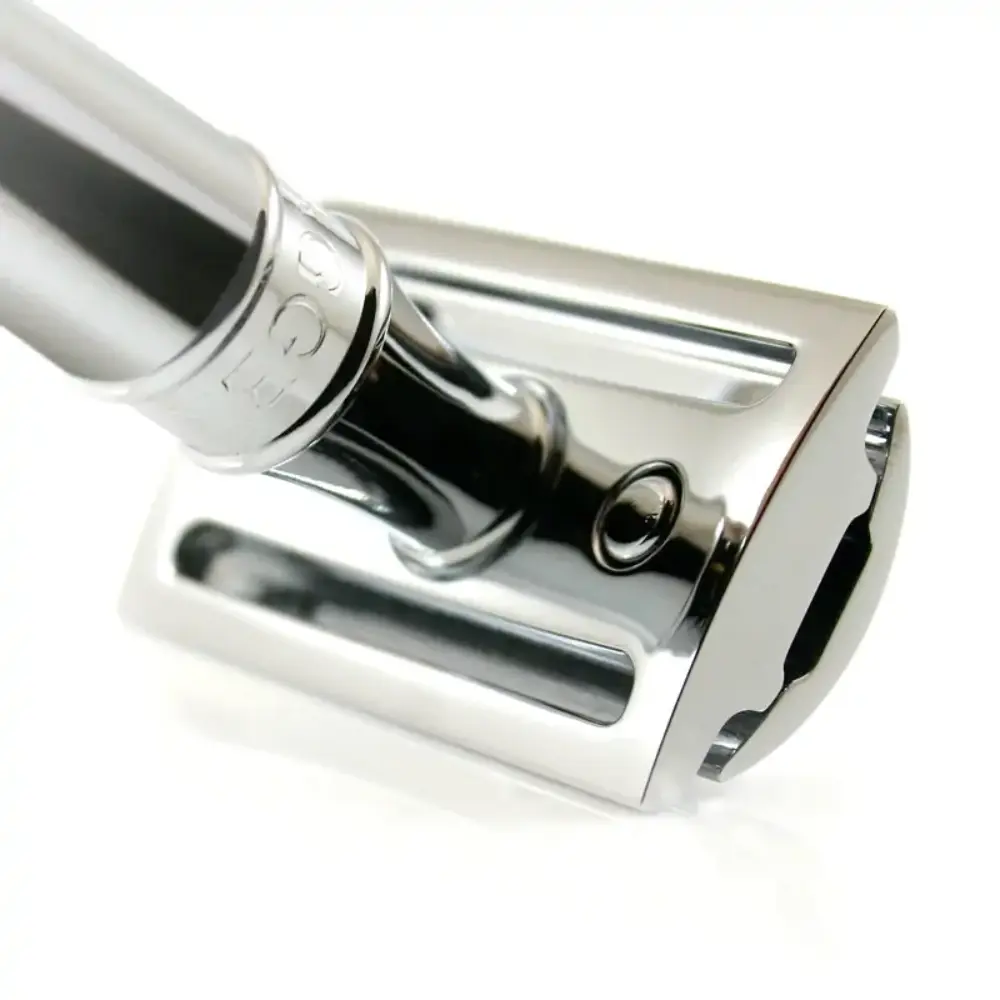 One of the key elements that set the DE89 apart from its competitors is its excellent balance and weight distribution. The razor's weighted handle provides just the right amount of pressure for smooth glide while shaving, which is particularly helpful for beginner shavers and those with sensitive skin.
In fact, the DE89 weighs a rather light 2.39 oz. For comparison, both King C. Gillette (3.68 oz) and Merkur 34C (2.82 oz) are heavier than the DE89. The lighter weight of the DE89 requires just a touch more pressure during shaving, but the result is a shaving experience that emphasizes precision and finesse, making it suitable for users with varying levels of experience.
Here's how this razor compares to other safety razors:
Folks coming from a cartridge razor may find this weight comfortable and easy to handle, while experienced safety razors may be looking for some additional heft.
Its moderate aggressiveness makes it versatile, and suitable for a variety of facial hair types and shaving techniques.
Razor Length and Handle Grip: Finding the Best Fit
At 3.7″ in length, the DE89 has a moderately sized handle that caters to a wide range of hand sizes and grip preferences. By comparison, the Merkur 23C has a slightly longer handle at 4″, while the Merkur 34C has a shorter handle at 3.28″. We think that this moderate length is good for those who are just getting into wet shaving, as it provides a balanced and controlled grip, making it easy to maneuver the razor around the face and neck areas.
Here's how the DE89 compares to other razors in terms of length:
One of the notable downsides to the elegant design of the DE89 is that some users have reported that certain handle designs can become slippery when wet, requiring extra care to maintain a secure grip during shaving.
If you value control, we recommend going with a DE89 that has a knurled and textured handle as it seems to provide a more effective gripping surface.
Pro Tip: If you find your DE89 handle to be slippery, you can always wrap a rubber band around the handle or use a rubber grip from a pen to improve traction and prevent slippage during your shave.
Analyzing the Edwin Jagger DE89 Blade Gap and Its Impact on Shaving
With a blade gap of 0.76mm, the DE89 has a mild blade exposure that is not that aggressive – catering to a wide range of shaving preferences.
This close shave, combined with its user-friendly design, closed-comb head, and consistent blade alignment system, offers an enjoyable and efficient shave for both beginners and experienced wet shavers alike.
Shaving Performance and User Experience
Customers and wet shaving enthusiasts have praised the DE89 for its smooth shave, precision shaving, and overall shaving comfort.
One reviewer noted:
"The Edwin Jagger DE89 is a pleasure to shave with. In comparison to other razors I've tried, it provides the perfect balance of mildness and efficiency. As someone with sensitive skin, the DE89 leaves me with little to no irritation, and I've experienced a significant decrease in razor burn." Marko U.
However, the reports of persistent slippage were a common complaint among some users.
As for those in the wet shaving community, you can see that the DE89 has consistently been ranked among the top safety razors in many forums and discussion boards. Here are some folks over on Reddit's /r/wicked_edge subreddit that are weighing in on their experience with the DE89. The overall consensus is that the DE89 is an excellent choice and ultimately a reliable safety razor.
In our testing we found that the DE89 consistently performed well, even on thicker beards and coarser hair types, effectively removing all stubble in just a few passes.
Lastly, the DE89 can work with any standard double edge razor blades, giving users the flexibility to experiment with their preferred blade brands and types. Different blades like Feather, Astra, and Derby are all compatible with the DE89, allowing you to find the perfect combination of razor and blade that best suits your needs and preferences.
Here's a video demonstrating the DE89 in action:
When reading reviews and opinions, it's essential to note that individual experiences may vary, and what works well for one person may not necessarily work the same for another. Factors such as personal shaving technique, the type of blade used, and even the shaving soap or cream can impact a user's experience with a safety razor like the Edwin Jagger DE89.
Comparing Edwin Jagger DE89 to Other Popular Safety Razors
The DE89 often gets compared to two other popular safety razors in the market: the Muhle R89 and the Merkur 34C. Here's how they differ from one another:
Edwin Jagger DE89 vs. Muhle R89
Both the Edwin Jagger DE89 and Muhle R89 are well-regarded safety razors that offer a comfortable, close shave. In fact, they are nearly identical as they reportedly share the same head.
The length and weight differences are nearly negligible, with the DE89 having a slightly longer handle and heavier weight than the R89.
The Muhle does cost on average about $15 more ($45) than the Edwin Jagger DE89, which is priced at around $30. We suggest that you base your decision between these two razors on personal preference regarding handle design and overall aesthetics, as well as your budget.
Edwin Jagger DE89 vs. Merkur 34C
The Merkur 34C is another popular safety razor, often compared to the DE89. Both razors provide similar performance levels, but some users find the Merkur 34C to have a slightly more aggressive shave.
The smaller frame of the 34C (3.28″) compared to the DE89 3.8″ handle might be more suitable for those with smaller hands or those who prefer a more compact razor. The Merkur 34C is also slightly heavier and has a knurling on the handle, providing a more solid grip.
The 34C is a bit more expensive, but not by much. It is priced at around $40, compared to the DE89 at $30. The choice between these two razors will primarily come down to hand size and preferred grip, as well as the comfort and aggressiveness of the shave you desire.
You can read our review of the Merkur 34C to learn if it is a more suitable razor for you.
Price and Value for Money – Is Edwin Jagger DE89 Worth It?
The Edwin Jagger DE89 is priced affordably, making it an excellent value for those looking to invest in a high-quality safety razor. With proper razor maintenance and blade replacement, the DE89 can provide long-term value and an environmentally-friendly alternative to disposable razors.
With time, you'll see savings on blades and reduce plastic waste, making the DE89 a sustainable and cost-effective choice. Moreover, the DE89 offers a comfortable, mild shave that is suitable for both beginners and experienced wet shavers alike.
What We Like
Elegant design and a variety of handle options
Solid brass construction and quality materials
Excellent balance, weight distribution, and shaving comfort
Suitable for users with varying levels of experience
Mild aggressiveness, catering to a wide range of facial hair types and shaving techniques
What We Don't Like
Slippery handles in some designs can pose a challenge during wet shaving
Lighter weight may not be ideal for those who prefer a heavier razor
Not as aggressive as some more experienced wet shavers may desire
Bottom Line
The Edwin Jagger DE89 offers an exceptional shaving experience, with its classic design, solid build, and user-friendly features. Its moderate aggressiveness makes it suitable for a range of preferences, from beginners to experienced shavers, and it is reasonably priced for the quality of the product. With the variety of handle options and a close, comfortable shave, the DE89 is a worthwhile investment for both wet shaving newcomers and seasoned enthusiasts alike.
Compare the Edwin Jagger DE89 to other safety razors:
| Features | | | | | | | Add Product |
| --- | --- | --- | --- | --- | --- | --- | --- |
| Name | Edwin Jagger DE89 | Merkur 38C | Merkur 34C | Merkur 37C | Mühle R41 | Merkur 25C | |
| Overall Rating | | | | | | | |
| Brand | Edwin Jagger | Merkur | Merkur | Merkur | Mühle | Merkur | |
| Composition | Brass | Brass and die-cast zinc alloy | Brass and die-cast zinc alloy | Brass and die-cast zinc alloy | Chrome-plated metal | Chrome-plated brass and zinc die-casting | |
| Grip | Lined ridges | Swirling Grooves | Knurled | Swirling Grooves | Fine chasing | Knurled | |
| Comb | Closed comb | Closed comb | Closed comb | Slant | Open comb | Open comb | |
| Country of Origin | England | Germany | Germany | Germany | Germany | Germany | |
Show More
Buy the Edwin Jagger DE89 from these retailers: