The Merkur 34C HD safety razor is an outstanding choice for beginners and experienced wet shavers alike for many reasons.
Its durable construction, comfortable grip, and smooth performance make it an excellent investment for those looking for a close shave with minimal irritation.
In this detailed review, we'll explore the key features of the Merkur 34C, its benefits for different users, and suitable alternatives for those who may prefer a different shaving experience.
Let's dig in:
Aggressiveness
The Merkur 34C is a heavy-duty safety razor with a mild to moderate level of aggressiveness. This is due to its closed comb safety bar design, which features a slightly less exposed blade compared to open comb razors.
The closed comb design ensures that the blade exposure is controlled and balanced, providing a gentle and comfortable shave without compromising on efficiency, making it an ideal choice for users who prefer heavy-duty, DE razors.
Blade Gap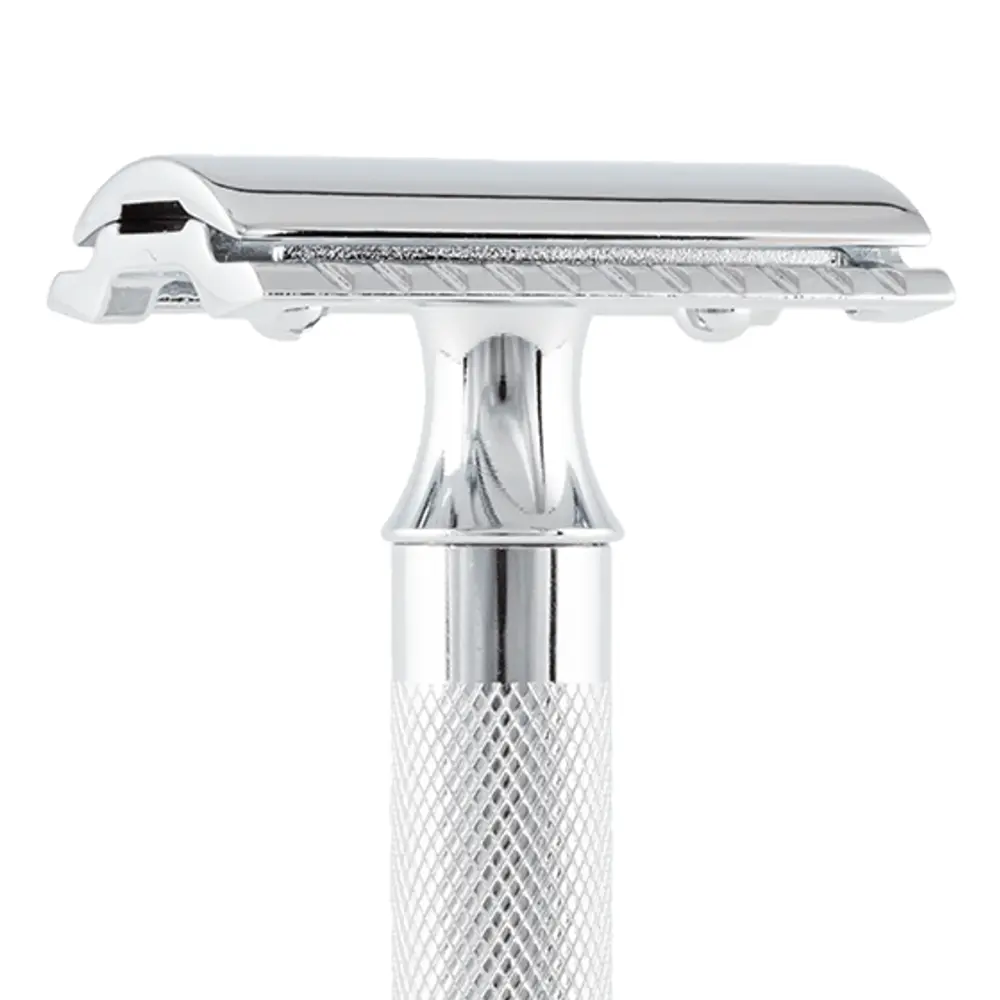 The blade gap of the Merkur 34C is 0.71mm, which contributes to its mild shaving experience, reducing the chances of razor burn and nicks. A smaller blade gap ensures that the blade isn't overly aggressive. Of course, this mild blade gap does require that you make a few more passes to achieve a close shave, but it also significantly reduces the risk of irritation, especially for those with sensitive skin.
Should you be looking for that baby butt smooth finish, you'll need to work on your technique and make multiple passes with the Merkur 34C. Nonetheless, the extra effort is worth it to avoid the unpleasant irritation and discomfort that can come with using a more aggressive razor.
In my personal experience, I have found that the Merkur 34C provides me with a consistently comfortable shave. I have sensitive skin, so the mild blade gap is perfect for me.
Grip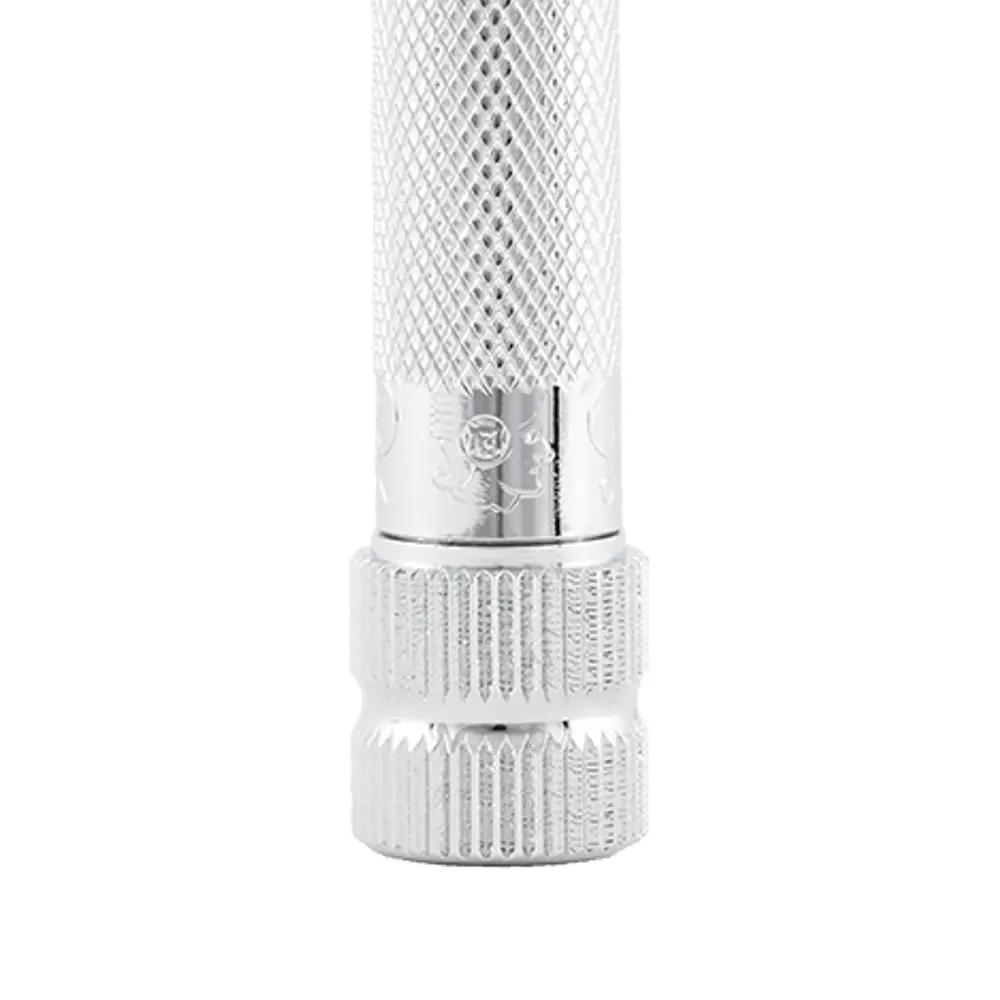 The Merkur 34C HD is a heavy-duty safety razor that offers a grip with diamond knurling, ensuring users can comfortably and securely hold the razor, even when wet. This grip design is a testament to its Solingen, Germany engineering heritage, which prioritizes both form and function.
The non-slip design of the Merkur HD minimizes the risk of accidental cuts, allowing for a more comfortable and enjoyable shaving experience. This is part of the product's carefully designed construction aimed at providing a user-friendly experience.
Pro Tip: Remember to hold the razor by the lower part of the handle to allow for better control and pressure distribution. This technique helps prevent applying too much pressure, which is a common mistake made by beginners.
Weight
The Merkur 34C safety razor offers exceptional build quality and performance in a well-balanced package. As a Merkur razor, it is designed with a diamond-knurled grip for a comfortable and secure hold, even when wet. The razor's weight, at 77 grams (2.7 ounces), provides the perfect balance between sturdiness and ease of use, making it suitable for both beginners and experienced wet shavers alike.
Having personally used the Merkur 34C, I can attest to the excellent balance and weight of the razor. It feels solid in my hand, allowing for smooth and accurate passes across my face.
However, men with thinner facial hair may want to opt for the 33C , as it is a lighter razor that weighs 56 grams (1.98 ounces). This razor features the same blade gap and grip design, but its lighter weight makes it easier to maneuver and better suited for those with finer and less dense facial hair.
Here's how this razor compares to other safety razors:
Pro Tip: It's important to find the razor that best suits your personal preferences and needs. To determine whether a heavier or lighter razor is right for you, consider the thickness and coarseness of your facial hair, your skin type, and your level of experience with wet shaving.
Handle Length
The Merkur 34C has a very short handle, measuring 77.1mm ( 3.03 inches), which provides a comfortable grip and optimal control during shaving. When shaving your face, this shorter handle allows for quick and easy maneuvering around tricky areas such as the neck or under the nose. It is especially beneficial for individuals with smaller hands or those who prefer a more compact design.
The short handle promotes better control and precision when making multiple passes, ultimately leading to a closer and more satisfying shave. The downside is that folks with larger hands may find it too small for comfort.
Here's how the 34C compares to other razors in terms of length:
Blade Replacement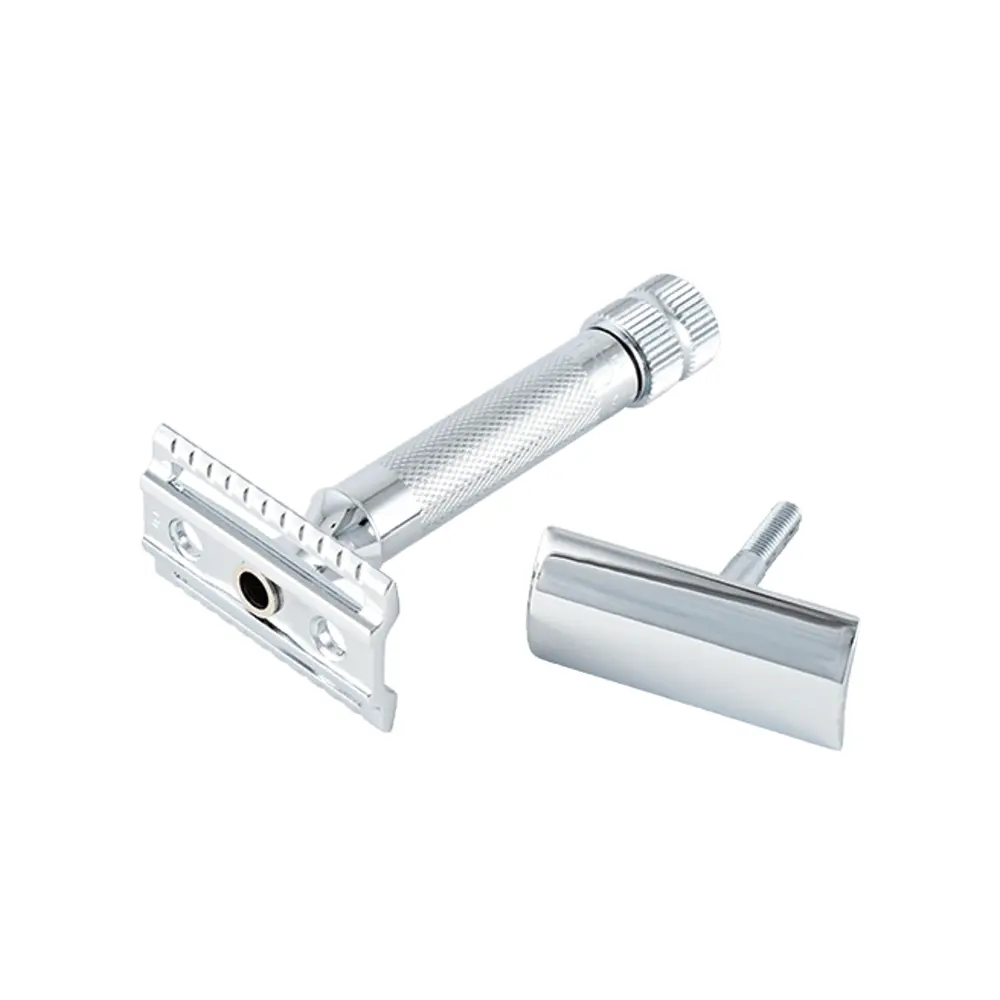 The Merkur 34C uses a straightforward two-piece design, making blade replacement quick and easy. To replace the blade, simply unscrew the knob at the bottom of the handle and remove the razor cap. Here's a video to demonstrate the process:
This design allows users to clean the razor and swap blades with minimal fuss, ensuring a consistently clean and sharp shave.
Shave Performance
The Merkur 34C's mild aggressiveness and well-balanced construction provide a shaving experience that is smooth, efficient, and suitable for users of all skill levels. This characteristic makes it an excellent choice for both beginners and experienced wet shavers.
Of course, as with any safety razor, feedback will vary depending on individual preferences, facial hair type, and shaving technique. One review that caught my eye was the following:
"The 34c provided a smooth, comfortable shave with no pulling of my beard, no unpleasant burn after each stroke, and surprisingly it was even fun." – Sam L.
Feedback like this was rather consistent when we took a look at other user reviews, highlighting the Merkur 34C's performance across a wide range of users.
Among the poorly rated reviews, there appeared to be consistency around the number of passes. For example, this review highlighted the issue:
" It took me multiple passes to get a close shave, but the razor was gentle on my sensitive skin. It's not the most aggressive razor, so if you're looking for a more aggressive shave, this might not be the best choice for you." – John M.
While we think that Alex here has some valuable input, it's important to remember that the number of passes needed for a close shave can vary depending on multiple factors such as the individual's hair growth pattern, hair thickness, and skin sensitivity. It's also worth noting that wet shaving with a safety razor often requires a bit of experimentation with different blades, angles, and techniques to find the optimal combination that works best for each individual.
A personal anecdote I can share is when I first started using a safety razor, I initially experienced a similar issue with needing multiple passes to achieve a close shave. However, after experimenting with different blades and refining my technique, I was able to significantly reduce the number of passes needed and achieve a much closer and more satisfying shave.
Which Razor Blades Work Best for the Merkur 34C?
While there is no one exact double edge safety razor blade that works best with the Merkur 34C, one of the most popular safety razors, users' preferences may vary depending on their skin and beard type. However, there are a few popular options that are often recommended by wet shavers.
When researching online forums, editorial reviews, and more, Astra and Wilkinson Sword safety razor blades were frequently mentioned as popular choices among Merkur 34C users. Both brands are known for their sharpness, durability, and affordability, making them great options for many wet shavers.
Of course, Feather safety razor blades were also mentioned quite often as they are renowned for their sharpness and smooth performance. However, some users may find them too aggressive and might experience irritation. It's important to experiment with different safety razor blades to find the optimal combination that works best for each individual.
Affordability
The 34C is a rather affordable option in the realm of safety razors, particularly when considering its overall quality and performance.
With a handle price of roughly $35, it is well within reach for most budgets.
Additionally, the cost of replacement blades is significantly lower than that of cartridge or disposable razors, especially when purchased in bulk. For instance, a pack of 100 Astra blades can cost around $8, which means each blade costs only about .08 cents.
Considering that a single blade can last anywhere from 3 to 7 shaves (depending on factors like hair growth and thickness), the cost per shave is minimal compared to disposable or cartridge razors, which can cost anywhere from $1 to $4 per cartridge, and often don't last as many shaves.
Other factors like the shaving soap, brush, and aftershave balm may skew the calculation slightly depending on the brand and quality, but overall, using a safety razor like the Merkur 34C is a more cost-effective and environmentally friendly option compared to disposable or cartridge razors.
Aesthetics
Here are some key points regarding the style and material quality of the Merkur 34C safety razor:
Style: The Merkur 34C has a classic design that will appeal to many wet shavers. It features a chrome finish, which not only looks elegant but also helps protect the razor from corrosion. This design has stood the test of time, with the Merkur 34C remaining a popular choice among wet shavers for decades.
Material Quality: The razor's construction uses brass as its primary material, ensuring durability and longevity. The chrome plating adds an extra layer of protection, keeping the razor free from rust and corrosion. This high-quality build, combined with proper care, means that the Merkur 34C can be a long-lasting addition to a wet shaver's grooming kit.
Care
Caring for the Merkur 34C is relatively simple. After each use, rinse the razor under warm water to remove any remaining lather or hair. Afterward, pat the razor dry with a towel or let it air dry in a well-ventilated area. Periodically disassemble the razor to clean and lubricate its parts. Proper care will ensure that your razor stays in excellent condition, providing a consistently close and comfortable shave.
For further guidance, this forum discussion over at Badger & Blade provides some excellent tips on how to care for the Merkur 34C.
Other Safety Razors to Consider
If the Merkur 34C isn't quite the right fit for you, several other safety razors on the market may better suit your needs, such as the following:
Edwin Jagger DE89: The Edwin Jagger DE89 is another popular safety razor with a similar level of aggressiveness to the Merkur 34C. It's an excellent option for users who prefer a longer handle or a different design aesthetic.
Merkur Futur: The Merkur Futur is an adjustable safety razor, allowing users to customize their shaving experience according to their preferences. It's a great option for those who want versatility in their razor.
Muhle R89: The Muhle R89 has a similar design and performance to the Merkur 34C, offering a close and comfortable shave. Users who prefer a different brand may find the Muhle R89 a suitable alternative.
Merkur 38C HD Long Handle Barber Pole: The Merkur 38C features a longer handle and heavier weight than the 34C, making it an ideal option for users with larger hands or those who prefer a heftier razor.
What We Like
High-quality construction and durability
Smooth and comfortable shaving experience
Suitable for beginners and users with sensitive skin
An environmentally friendly and cost-effective option
What We Don't Like
Short handle may not suit users with larger hands
Bottom Line
The Merkur 34C is a top choice for both beginners and experienced wet shavers due to its high-quality construction, smooth performance, and comfortable grip. This safety razor offers a close and enjoyable shave, making it a popular option for those seeking a cost-effective and environmentally friendly alternative to disposable or cartridge razors. While the short handle may not suit users with larger hands, the numerous benefits of the Merkur 34C make it a highly recommended option.
Compare the Merkur 34C to other safety razors:
| Features | | | | | | | Add Product |
| --- | --- | --- | --- | --- | --- | --- | --- |
| Name | Merkur 34C | Merkur 38C | Merkur 37C | Mühle R41 | Merkur 25C | King C. Gillette Safety Razor | |
| Overall Rating | | | | | | | |
| Brand | Merkur | Merkur | Merkur | Mühle | Merkur | Gillette | |
| Composition | Brass and die-cast zinc alloy | Brass and die-cast zinc alloy | Brass and die-cast zinc alloy | Chrome-plated metal | Chrome-plated brass and zinc die-casting | Chrome-plated metal | |
| Grip | Knurled | Swirling Grooves | Swirling Grooves | Fine chasing | Knurled | Swirling Grooves | |
| Comb | Closed comb | Closed comb | Slant | Open comb | Open comb | Closed comb | |
| Country of Origin | Germany | Germany | Germany | Germany | Germany | China | |
Show More
Buy the Merkur 34C from these retailers: