As the popularity of traditional wet shaving continues to increase, the market has become flooded with various safety razor options. Among them, the Rockwell 6C stands out for its adjustable design, durability, and competitive price. Read on to find out if the Rockwell 6C is worth your consideration.
Design and Construction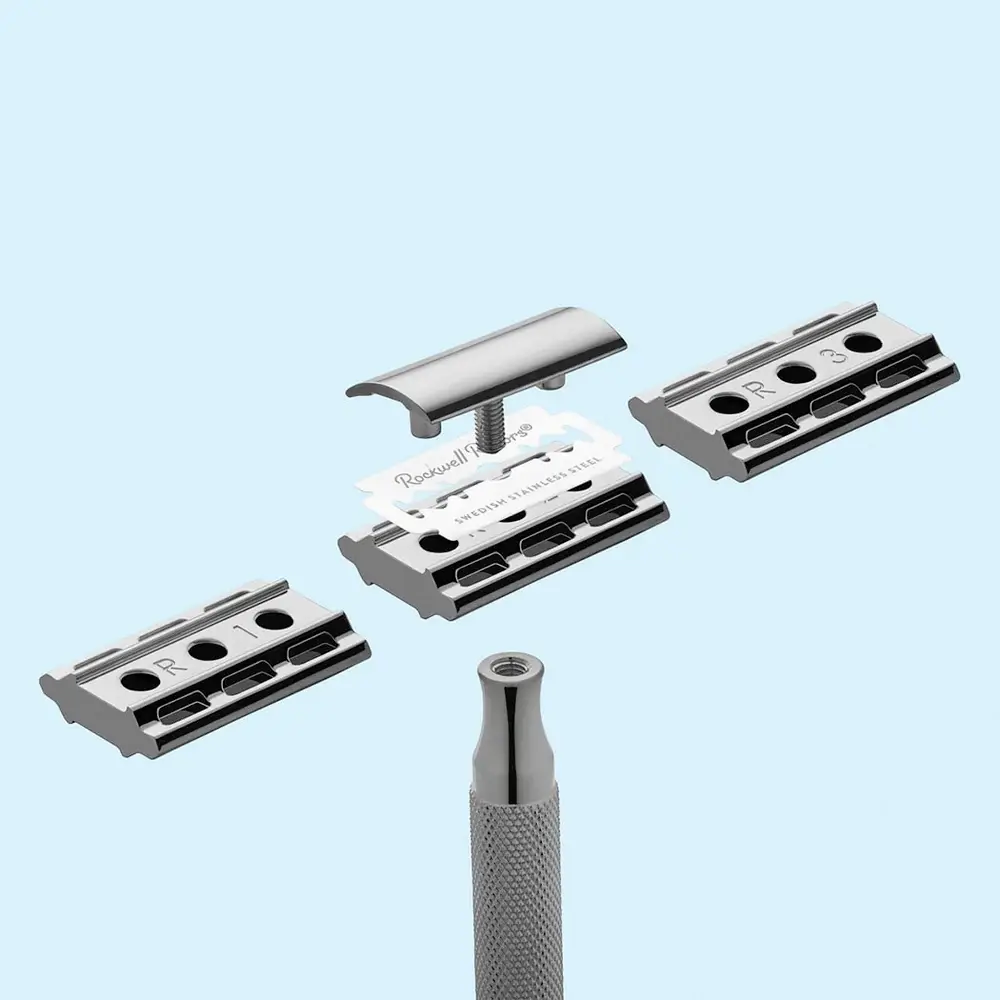 Here we look at various design and construction aspects of the Rockwell 6C.
Material and Finish
Constructed from a durable zinc alloy material, the Rockwell 6C boasts an eye-catching white chrome finish. The use of zinc alloy strikes a balance between durability and affordability, making it an ideal choice for those seeking a high-quality razor without emptying their pockets.
Interchangeable Base Plates
One of the key features of the Rockwell 6C is its innovative design, which includes three reversible base plates. With six distinct levels of aggressiveness, this fully-adjustable razor system caters to a wide array of hair types and skin sensitivities, allowing users to enjoy a uniquely personalized shaving experience.
The settings are numbered from 1 to 6, with 1 being the mildest and 6 being the most aggressive. Per the FAQ on the Rockwell website, the number on the plate at the bottom of your razor is the shave setting you are using.
Beginners are best suited to start with the lower settings (1-3), which provide a mild and comfortable shave with less blade exposure. As one becomes more experienced or adventurous, they can opt for the higher settings (4-6), which offer a closer and more aggressive shave with greater blade exposure.
Weight
The Rockwell 6C weighs 3.52 oz, making it fairly heavy for a safety razor. This added weight means that when shaving, little to no additional pressure is needed to get smooth results.
Here's how this razor compares to other safety razors:
Length
At 3.74″ in total length, the 6C will work for just about any person's hand size – making it both easy to control while also providing good grip and reachability.
Here's how the 6C compares to other razors in terms of length:
Evaluating the Rockwell 6C Blade Gaps
Compared to other safety razors, the Rockwell 6C offers a more versatile shaving experience due to its six adjustable shave settings that cater to different skin types and shaving preferences.
This allows you to grow with the razor, adapting it to your individual needs over time – a notable advantage when compared to fixed-bladed safety razors like the Muhle R89, Merkur 34C, and virtually all other safety razors in the market.
Shaving Performance and User Experience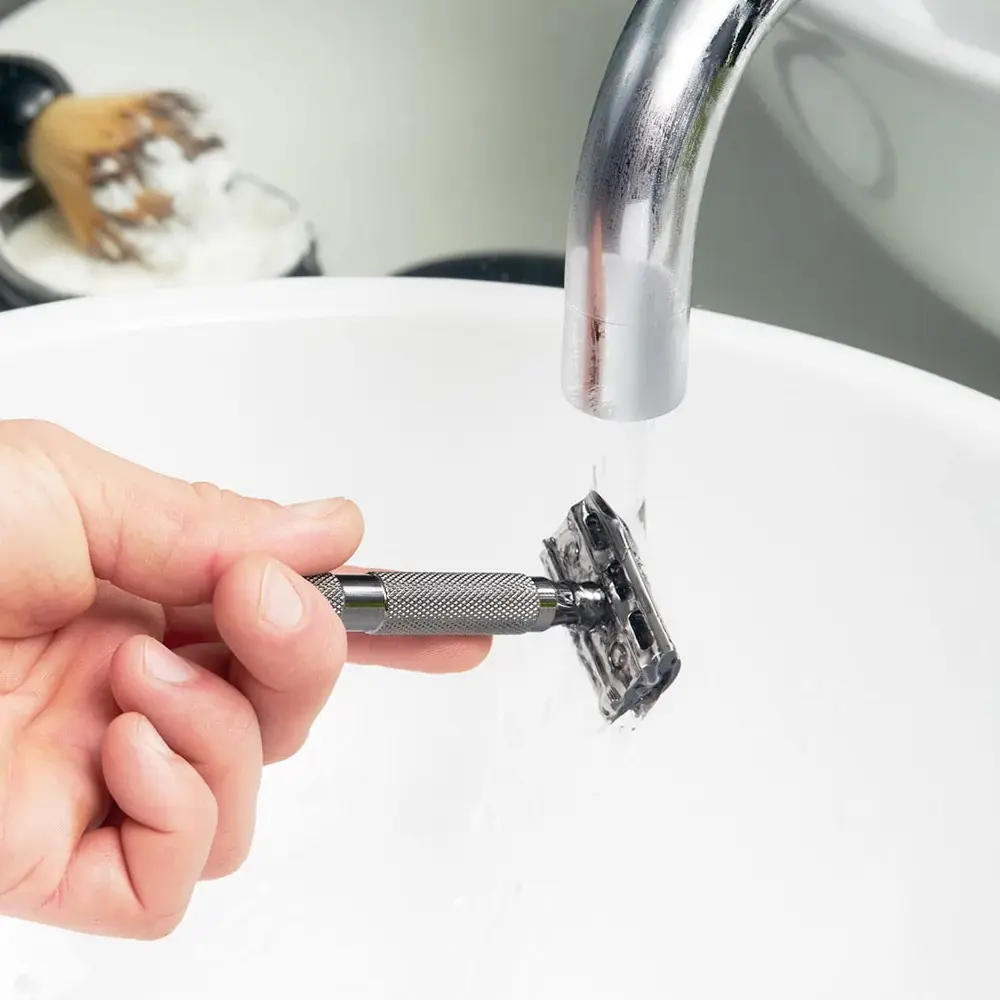 While the 6C may look beautiful, shave performance and user experience are paramount aspects to consider before making a purchase. Here's what you should know:
Testing the Rockwell 6C
Multiple factors contribute to a great shaving experience, including user skill, lather quality, blade sharpness, and razor design. To provide a comprehensive evaluation of the Rockwell 6C, we conducted tests using a variety of blade brands, pre-shave preparations, and lathers to represent a wide range of user preferences and conditions.
This resulted in the assessment of the razor's performance across different settings, hair types, and skin sensitivities.
Overall, the Rockwell 6C consistently delivered exceptional shaving results, providing a smooth and irritation-free experience. The biggest selling point of the 6C is also one of the biggest downsides: its versatility.
While the adjustable shave settings cater to a myriad of user preferences, adjusting it mid-shave isn't practical, especially when compared to other adjustable safety razors like the Merkur Progress or the Rex Ambassador, which allow for quick and easy adjustments on the fly.
With the 6C you need to dismantle the razor head and switch the base plate to your desired setting, which can be cumbersome and time-consuming. However, once you find the setting that works best for you, the need for adjustments will likely become less frequent, making the 6C a reliable and enjoyable shaving tool.
Customer Reviews
When researching customer reviews for the Rockwell 6C, you'll find that the majority of users have a positive experience with this razor. They often highlight the excellent build quality, the smooth and efficient shave it provides, and the value for money it offers compared to other safety razors.
Negative reviews, while rare, often touched on some blade spacing issues with the razor. Additionally, the fact that it is made in China was a turn-off for some users, particularly those who place a high value on domestically manufactured products.
However, for those the 6S should be considered as it is made in the USA, offering the same design and adjustable shave settings but constructed with stainless steel for added durability and a premium feel.
Another small downside mentioned by some users is the learning curve associated with mastering the different base plates and finding the optimal setting for their needs. However, most users agree that the time invested in learning how to use the 6C properly is worth it in the end, as it results in a highly personalized and comfortable shaving experience.
Social Media & Editorial Reviews
We love dropping in on discussions in popular shaving forums like Badger & Blade and The Shave Nook, as well as following influential YouTubers and bloggers in the wet shaving community, to get a sense of what the experts think about the Rockwell 6C.
Here was one such discussion on Reddit's /wicked_edge subreddit, where users expressed their satisfaction with the razor's quality, performance, and adjustability options.
Folks over at Badger & Blade also chimed in with their thoughts, noting the plating was "surprisingly nice" and that the value far exceeded their expectations when compared to other razors in the same price range.
Comparing the Rockwell 6C to Other Razors
Folks on the fence about purchasing the Rockwell 6C often like to compare it to other popular safety razors in the market. Some comparisons often made include the following:
Rockwell 6C vs 6S vs 2C
While the Rockwell 6S, crafted from stainless steel, is a more premium option with a higher price tag, the 6C offers an affordable alternative without sacrificing performance. The Rockwell 2C, on the other hand, provides fewer settings (only two) compared to the 6C's six.
Rockwell 6C vs Henson
The Henson razor is renowned for precision engineering and mildness, whereas the Rockwell 6C prioritizes adjustable aggressiveness in a classic design. Both razors deliver smooth and comfortable shaves, but they cater to different user preferences. Do note that the Henson may be a better choice for general grooming and those with sensitive skin, while the Rockwell 6C's versatility makes it ideal for users seeking to experiment with varying levels of aggressiveness and customization.
Rockwell 6C vs Merkur Progress
The Merkur Progress is another adjustable safety razor that offers a customizable shaving experience. Despite the Progress's long history, the Rockwell 6C competes by providing an equally excellent shaving experience at a more accessible price.
What We Like
Durable alloy construction with an attractive chrome finish
Six adjustable shave settings allow for a personalized shaving experience
Balanced weight and comfortable handle provide a secure grip
Competitive pricing for a high-quality, adjustable safety razor
What We Don't Like
Some customers reported uneven blade spacing on both sides of the razor
Zamak construction may show cosmetic wear after prolonged use
Bottom Line
Considering its durable alloy construction, adjustable settings, and attractive chrome finish, the Rockwell 6C is a worthy investment for those looking to upgrade from cartridge razors or seeking a customizable DE razor. It caters to a diverse range of skin types and hair thicknesses, delivering a close and comfortable shave.
Compare the Rockwell Razors 6C to other adjustable safety razors:
| Features | | | | | | | Add Product |
| --- | --- | --- | --- | --- | --- | --- | --- |
| Name | Rockwell Razors 6C | Merkur Futur | Merkur Progress | Parker Variant | Rex Ambassador | Rockwell 6S | |
| Overall Rating | | | | | | | |
| Brand | Rockwell Razors | Merkur | Merkur | Parker | Rex Supply Co. | Rockwell | |
| Composition | Closed comb | Chrome-plated brass | Brass and die-cast zinc alloy | Brass and zamak alloy | 316L Stainless Steel | 316L Stainless Steel | |
| Grip | Knurled | Smooth | Octagonal | Knurled | Deeply knurled | Knurled | |
| Comb | Closed comb | Closed comb | Closed comb | Closed comb | Closed comb | Closed comb | |
| Country of Origin | China | Germany | Germany | India | USA | USA | |
Show More
Buy the Rockwell Razors 6C from these retailers: