Expertly blurring the line between a traditional safety razor and a cartridge razor, the Leaf Razor stands out as a game-changer in the world of sustainable and environmentally-conscious shaving.
In this in-depth review, we'll examine the Leaf Razor's design, performance, value for money, and sustainability features to help you determine if it's the perfect fit for your grooming routine.
State-of-the-Art Design and Exceptional Build Quality
Founded by Adam Simone and Adam Hahn, Leaf Shave aimed to create a stylish, user-friendly, and sustainable alternative to disposable razors and plastic-filled cartridges.
With careful attention to detail, they embarked on a journey to design and perfect the Leaf Razor we see today.
The Leaf Razor boasts an elegant, stylish design with all-stainless steel construction that speaks of sophistication and durability.
The razor's engineering showcases its attention to detail, from its corrosion-resistant properties to the** all-metal handle**, ensuring it lasts for years.
This environmentally responsible choice is perfect for those looking to embrace a sustainable grooming routine and reduce plastic waste from disposable razors. In addition, a traditional safety razor can be a suitable alternative for people who prefer simplicity and the closest shave of a double-edge blade.
Ergonomic Balance and Weight Distribution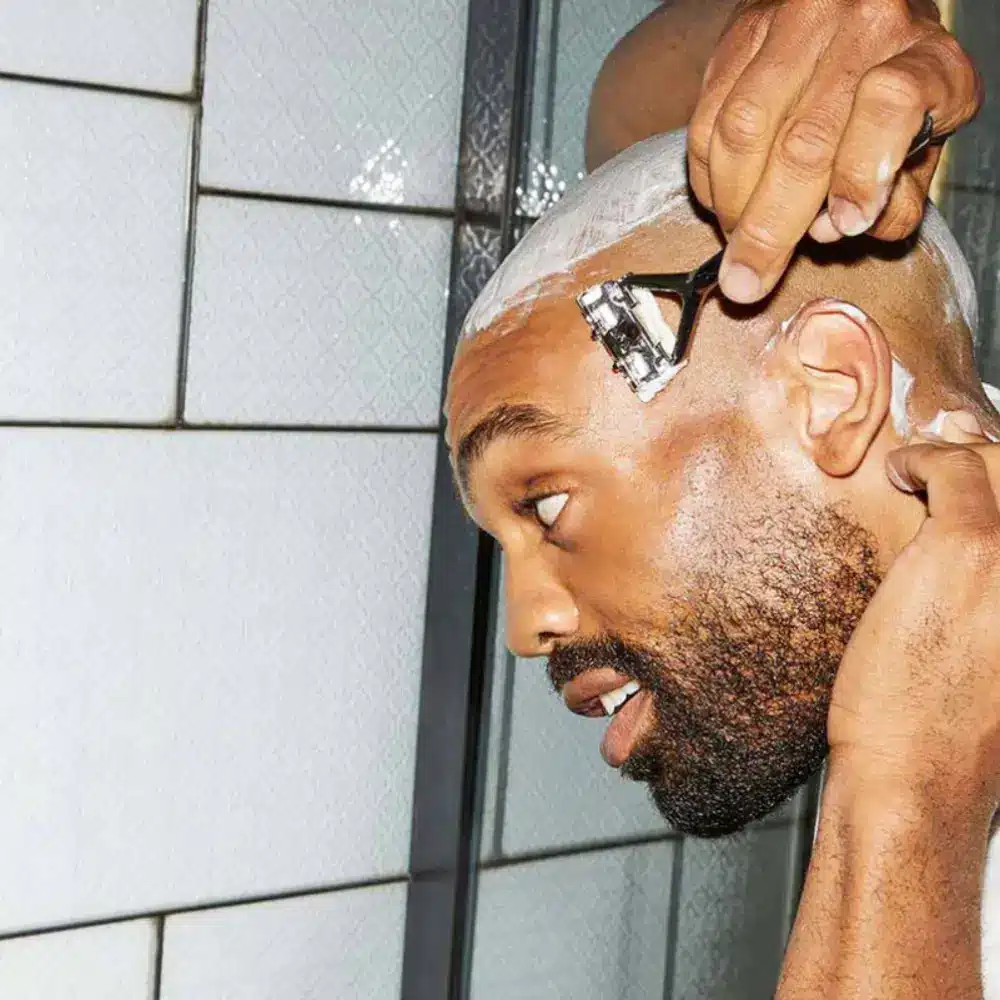 The razor's ergonomic design ensures a balanced weight distribution at 2.8 ounces, making it comfortable to hold and maneuver for a precise shave.
Here's how this razor compares to other safety razors:
While some users may find the weight to be on the lighter side, the excellent overall balance negates any potential discomfort. Plus the reliance on three blades provides smoother results in fewer passes. The weight distribution, combined with the razor's slightly curved silhouette, allows it to rest comfortably in your hand, making it easier to navigate around facial contours with minimal effort.
Handle Grip Concerns and Solutions
A common concern among users in Leaf Shave reviews is the slick handle design, which may pose grip issues in wet environments, such as shower use.
Unfortunately, this can be tough for some, especially those with limited dexterity or reduced grip strength. To address this issue, Leaf Shave offers a solution in the form of the Leaf Razor Grip Sleeve.
Made from high-quality silicone, this textured, slip-resistant accessory fits snugly over the razor handle, providing enhanced grip and stability during shaving. The grip sleeve is easy to install and remove, making it a convenient addition to your shaving routine.
Confused on the important aspects of a safety razor? Check out our primer on the ins-and-outs of safety razors.
Length
By comparison to other safety razors, the Leaf Razor is very long – in fact, it is the longest safety razor we have reviewed to date. At 6″ in total length, it is more akin to a cartridge razor than it is a safety razor.
To demonstrate, here's how the Leaf Razor compares to other razors in terms of length:
Customize Your Shave with Adjustable Blade Gap
The Leaf Razor sets itself apart with its unique, customizable blade setup that accommodates up to three razor blades. This feature allows users to decide the blade gap and aggressiveness of their shave according to their preferences and skin type.
For example, if you want a more aggressive shave or have thicker and coarser facial hair, load in three blades to cut through the hair more efficiently. On the other hand, if you have sensitive skin or prefer a milder shave, remove the bottom blade or use just one blade for a gentle and less aggressive shaving experience.
The customizable blade gap feature not only caters to individual preferences but also adapts to different hair growth patterns, ensuring an optimal shave no matter your hair type or thickness.
Real-World Shaving Performance
One of the key elements of the Leaf Razor's design is its pivoting head, which effortlessly glides along the contours of your body to deliver a smooth and comfortable shave with minimal nicks and irritation.
Unlike virtually all safety razors, with the exception of newer modern offerings like OneBlade, the Leaf Razor's innovative pivoting head allows for a more intuitive and familiar shaving experience, similar to that of traditional cartridge razors.
While there will assuredly be a learning curve for users transitioning from cartridge razors to the Leaf Razor, most users report acclimating quickly to the slightly different shaving technique required.
As for the reviews from folks, they loved the eco-friendly mindset of the company and the products they offer. Many users have praised the Leaf Razor for delivering a close and comfortable shave while significantly reducing plastic waste in comparison to disposable razors and cartridges.
However, where the Leaf fell short was due to corrosion and rusting issues reported by some users, particularly in the hinge mechanism. Additionally, the slick handle proved problematic for some individuals, causing difficulty in maintaining a firm grip, especially when wet or covered in shaving cream.
Here's a great video demonstrating the Leaf razor in action:
Exploring Alternatives: Comparing Leaf Razor to Supply, Henson, and Leaf Twig Razor
Before making a decision, it's essential to consider alternatives:
Supply Razor: Offering a luxurious single-blade shaving experience, the Supply razor is an elegant choice for those looking for simplicity and premium build quality.
Henson Razor: Known for its precise aluminum engineering, the Henson razor delivers a smooth, efficient shave with little to no irritation.
Leaf Twig & Thorn Razor: The Leaf Twig and Thorn Razors are single-edge razors. Twig is designed for lighter hair whereas the Thorn line is for heavier, coarser hair. Both razors are committed to eco-friendliness and provide a close, gentle shave for different hair types.
Your ultimate choice will depend on personal preferences and shaving needs, but rest assured that each option offers a high-quality shaving experience.
Cleaning and Maintenance Tips
Regular cleaning and maintenance are crucial for ensuring your Leaf Razor's optimal performance and longevity. The magnetic load assist enables easy blade removal and replacement, while the open design encourages thorough rinsing.
Use a small brush and warm water to clean hard-to-reach areas and remove soap scum and shaving cream residue.
Check this step-by-step guide on cleaning and maintaining your Leaf Razor.
Blade Compatibility and Cost-Effectiveness
The Leaf Razor's compatibility with any single-edge safety razor blade means you're not restricted to purchasing specific Leaf Razor refills.
This feature contributes to its cost-effectiveness and convenience, allowing you to choose your preferred blades based on your budget and performance preferences.
In fact, based on this thread on Reddit alone, it's probably a good idea to not put too much weight on the blades that come with the razor as the performance was poor for many users.
While you can use the provided blades, many users find that experimenting with various brands and types helps them find the perfect shave for their skin and hair type. Popular blade brands include Feather, Astra, Derby, and Personna, among others. The cost per blade varies depending on the brand and quantity you purchase.
Traveling With Your Leaf Razor
Here's where you need to exercise caution before purchasing the razor. The Leaf razor is considered a safety razor due to the reliance on double-edge blades.
In many countries, including the United States, safety razor blades are prohibited in carry-on luggage by the Transportation Security Administration (TSA). To avoid delays and possible confiscation of your razor, pack your blades in your checked luggage or purchase them when you arrive at your destination. Alternatively, consider investing in a travel-friendly razor with a protective case to streamline your shaving routine while on the go.
Pricing and Value for Money: Is the Leaf Razor Worth It?
While the $84 price tag may seem steep compared to disposable razors, the Leaf Razor's durable build quality, customizable shaving experience, and compatibility with affordable single-edge safety razor blades make it a worthy long-term investment.
The razor's eco-friendly design also adds value to your purchase, aligning with a sustainable lifestyle. That being said, the initial investment is well worth it when considering the long-term benefits of reduced waste and the consistent, high-quality shave that the Leaf Razor provides.
What We Like
Customizable shaving experience accommodating up to three blades
Pivoting head for a smooth, contour-hugging shave
Compatibility with any single-edge safety razor blade
Eco-friendly, plastic-free design
What We Don't Like
Slick handle may be challenging to grip when wet
Occasional reports of rusting issues around hinges and screws
Bottom Line
With a unique, plastic-free design and a customizable shaving experience, the Leaf Razor is an outstanding choice for individuals seeking both sustainability and shaving comfort. Although there may be a learning curve and concerns with the handle grip when wet, the razor's robust performance, eco-friendliness, and overall value for money make it a worthwhile investment for those seeking a high-quality, sustainable shaving tool. So, go ahead and make the switch – your skin and the planet will thank you!
Compare the Leaf Razor to other safety razors:
| Features | | | | | | | Add Product |
| --- | --- | --- | --- | --- | --- | --- | --- |
| Name | Leaf Razor | Merkur 38C | Merkur 34C | Merkur 37C | Mühle R41 | Merkur 25C | |
| Overall Rating | | | | | | | |
| Brand | Leaf Shave | Merkur | Merkur | Merkur | Mühle | Merkur | |
| Composition | Zinc, Stainless Steel | Brass and die-cast zinc alloy | Brass and die-cast zinc alloy | Brass and die-cast zinc alloy | Chrome-plated metal | Chrome-plated brass and zinc die-casting | |
| Grip | Smooth | Swirling Grooves | Knurled | Swirling Grooves | Fine chasing | Knurled | |
| Comb | N/A | Closed comb | Closed comb | Slant | Open comb | Open comb | |
| Country of Origin | USA | Germany | Germany | Germany | Germany | Germany | |
Show More
Buy the Leaf Razor from these retailers: