The Merkur Futur, also known as the Merkur 700, 701, and 702 adjustable safety razor is a popular choice among wet shaving enthusiasts, as it offers Germany's renowned Solingen quality, a sleek design, and the convenience of customizable aggressiveness levels.
This review will dive into the features, performance, and design aspects of the Merkur Futur, helping you decide if it's the perfect addition to your shaving routine.
About the Merkur Futur
Here we will go over key aspects of the Merkur Futur, including its blade gap, weight, handle, and more.
Blade Gap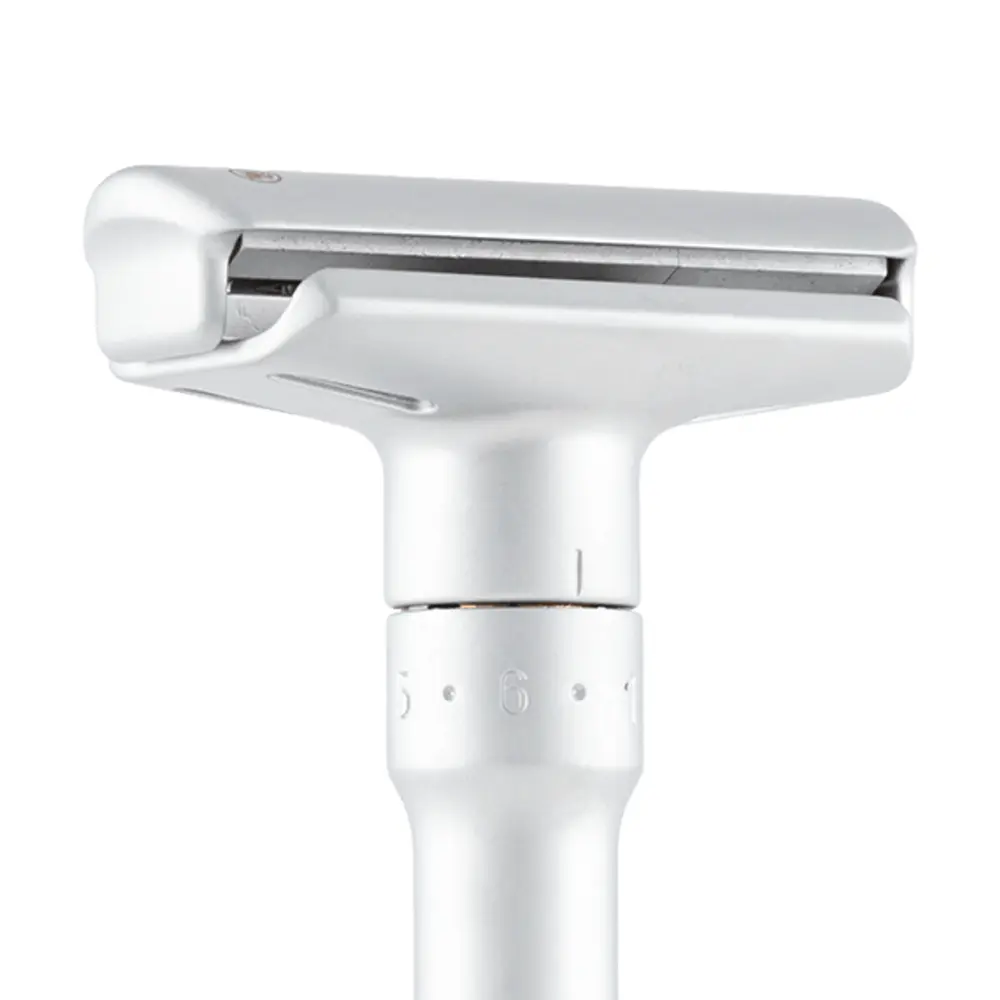 The Merkur Futur's most distinguished feature is its adjustable blade gap, which allows users to easily control the aggressiveness of their shave.
With six aggressiveness settings, ranging from moderate to aggressive (or roughly 1.12mm to 1.65mm), the Merkur Futur offers a wide range of options to suit different preferences and skin types.
As one user aptly said:
"The Futur's adjustable settings are a game-changer for my daily shaves. I can switch between settings for a smooth, irritation-free shave no matter the length of my beard." – Marko T.
In one continuous motion, you can effortlessly change the blade gap by twisting the handle's base. This allows you to perhaps make a more aggressive setting for your first pass (to remove the majority of the stubble), followed by a less aggressive setting for subsequent passes to achieve a smooth and irritation-free result.
While 1.12mm may seem like a small blade gap, it is in fact, rather large, making the lowest setting on the Merkur Futur still relatively aggressive when compared to other safety razors on the market. This makes the Futur more suited for those with thicker or coarser hair, or individuals who have experience with wet shaving and can handle a more aggressive razor.
For comparison, the Merkur 34C has a blade gap of .71mm, which is roughly 44.8% smaller than the mildest setting of the Futur.
Pro Tip: When trying out the Merkur Futur for the first time, it's recommended to start with the lowest setting and gradually increase the aggressiveness until you find the perfect balance for your skin and shaving preferences.
Other Key Specifications
Here are a few other important specifications to consider when evaluating the Merkur Futur:
Handle Texture: The Merkur Futur lacks any sort of knurling or textured grip on its handle, which may be a concern for some users, especially when using the razor with wet or soapy hands. However, the sleek design contributes to its modern aesthetic.
Length: The Merkur Futur's handle length is approximately 108 mm (4.30″), giving users greater control and reach during the shave, especially for those with larger hands.
Materials: The Merkur Futur is made of brass with a chrome finish, ensuring durability and resistance to corrosion.
Weight: At 129 grams (4.5 ounces) the Futur is one of the heaviest safety razors in the market. As you might expect, this weight distribution impacts the razor's performance, as it allows the razor to do most of the work, minimizing the need for excessive pressure.
Pieces: The Merkur Futur is a two-piece razor, with a top cap that snaps on and off the handle for easy blade replacement. This design ensures a secure hold on the blade and simplifies the cleaning process.
Blade Replacement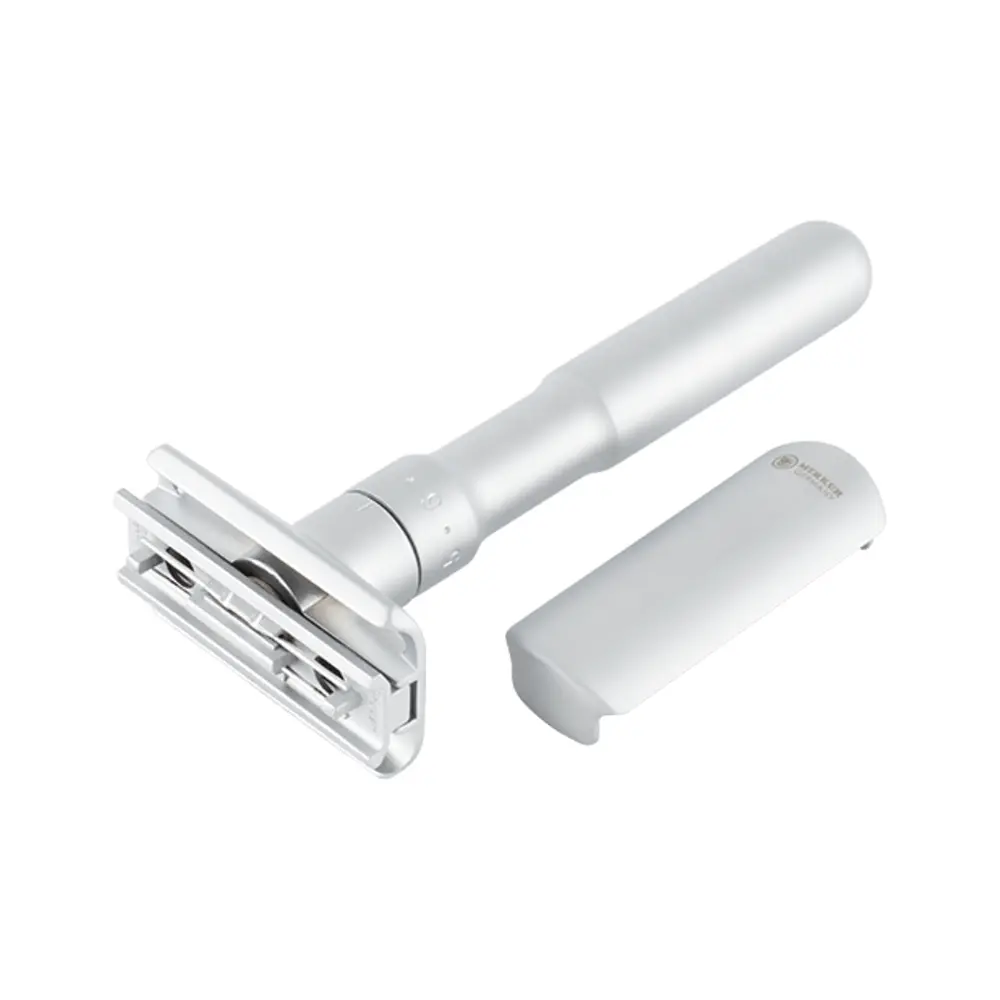 Replacing blades on the Merkur Futur is easy. The snap-on cap design allows for quick and convenient blade changes. Simply lift the top cap off the handle, place a new blade on the two small posts, and snap the cap back into place. This design ensures a secure hold on the blade and simplifies the cleaning process. However, this design may be prone to wearing out over time with repeated use.
Blade Compatibility
Like most safety razors, the Merkur Futur is compatible with standard double-edge blades, allowing users to choose from a wide range of options to suit their preferences. It is recommended to try different blade brands to find the perfect fit for your skin type and hair thickness. Popular choices include Feather, Astra, Derby, and Gillette.
Did You Know: Double-edge blades are not only more cost-effective than cartridge razors, but they also tend to create less waste, making them an environmentally friendly option.
What We Think about the Merkur Futur
Here's what you need to know about the Merkur Futur:
Performance
Once mastered, the Merkur Futur provides a consistently comfortable shave, thanks to its well-balanced weight distribution and long handle.
As was the case when using the Merkur 38C, the weight of the Futur works to your advantage, allowing the razor to do most of the work as you guide it across your face. This minimizes the need for applying excessive pressure, which can lead to irritation or nicks.
Many users have reported that the Merkur Futur delivers an exceptionally close shave, even after just a single pass. This is due to the razor's large blade gap, which is quite aggressive when compared to other safety razors on the market.
A notable downside to the Futur is the bulky head. In our analysis, users consistently complained about this aspect of the razor.
Here's what one user had to say:
"While the Futur gets me a close shave, I sometimes struggle with the larger head when trying to shave around my nose and ears. But once I got the hang of it, I've been able to find the right angles and techniques to overcome this minor issue." – James L.
Feedback was also consistent in popular forums like Reddit and Badger & Blade.
With a steep learning curve, using the Futur will undoubtedly require some getting used to, especially for those who are transitioning from cartridge razors or less aggressive safety razors. It is essential to practice proper wet shaving techniques, such as lathering with a high-quality shaving soap or cream and taking time to prepare your skin and hair before shaving.
Value
The Merkur Futur's price point of $85 is relatively high.
The adjustable nature of this razor adds value, as it caters to various preferences and skill levels, potentially saving money in the long run as you won't need to purchase multiple razors for different purposes.
Merkur Futur Set
For those interested in a complete wet shaving kit, Merkur sells the Futur as part of a set that includes the following: shaving brush, stand, and bowl. This retails from $300 to $360.
Components of the set cannot be purchased individually. We only recommend considering the set if you are just starting out with wet shaving and want a complete kit, or if you want a matching set of shaving accessories.
700 vs. 701 vs. 702 Futur Models
Currently, Merkur makes the Futur in three models: 700 (Matte Chrome), 701 (Polished Chrome), and 702 (Gold Plated). Despite the distinct finishes, all three models share the same design and functionality, catering to various personal tastes and bathroom aesthetics.
Alternatives to Consider
Here are several other adjustable safety razors that are worth considering instead of the Merkur Futur:
Merkur Progress 500: The Merkur Progress is another adjustable safety razor with a more classic design and lighter weight compared to the Merkur Futur, although it also lacks knurling on its handle.
Rockwell Model T2: The Rockwell Model T2 is an adjustable safety razor with a more vintage design and customizable settings, providing users with a smooth, close shave.
Rockwell 6S Adjustable Stainless Steel Safety Razor: The Rockwell 6S is a stainless steel adjustable safety razor with six shave settings to suit various preferences, offering durability and precision.
What we like
Sleek, modern design
Adjustable aggressiveness settings for a customized shaving experience
High-quality Solingen construction and craftsmanship
What we don't like
Bulky razor head may be difficult to maneuver in tight areas
Smooth handle lacks grip, causing potential slippage
Unique blade replacement design may be less efficient than traditional methods
Bottom Line
The Merkur Futur adjustable safety razor is an excellent choice for wet shaving enthusiasts seeking a customizable shaving experience with a luxurious, modern design. While it might have some minor drawbacks like a bulky razor head and lack of grip, its high-quality German construction and versatility make it a worthy investment for those seeking the best shave possible.
Compare the Merkur Futur to other adjustable safety razors:
| Features | | | | | | | Add Product |
| --- | --- | --- | --- | --- | --- | --- | --- |
| Name | Merkur Futur | Merkur Progress | Rockwell Razors 6C | Parker Variant | Rex Ambassador | Rockwell 6S | |
| Overall Rating | | | | | | | |
| Brand | Merkur | Merkur | Rockwell Razors | Parker | Rex Supply Co. | Rockwell | |
| Composition | Chrome-plated brass | Brass and die-cast zinc alloy | Closed comb | Brass and zamak alloy | 316L Stainless Steel | 316L Stainless Steel | |
| Grip | Smooth | Octagonal | Knurled | Knurled | Deeply knurled | Knurled | |
| Comb | Closed comb | Closed comb | Closed comb | Closed comb | Closed comb | Closed comb | |
| Country of Origin | Germany | Germany | China | India | USA | USA | |
Show More
Buy the Merkur Futur from these retailers: